Fall Foliage Forecast
Check back September 8, 2016 when our Fall Foliage Forecast will begin for the season!
Home to more than 127 varieties of trees, shrubs and plants, the Pocono Mountains is truly a spectacular sight during the fall season. Because the region spans 2,400 square miles, three distinct color zones are present allowing you to catch peak colors not only once, but three times. Updated every Thursday through the end of October, this forecast will assist you on where, when and how to experience the brilliant foliage in our four-county region. The report is also available by calling 570-421-5565.
Check back throughout the season as projected dates for peak color are subject to change. For more information about the Pocono Mountains, follow us on Facebook, Twitter, Instagram, Pinterest, Google+ and YouTube and share photos, videos and stories of all of your Pocono Mountains adventures using #PoconoMtns.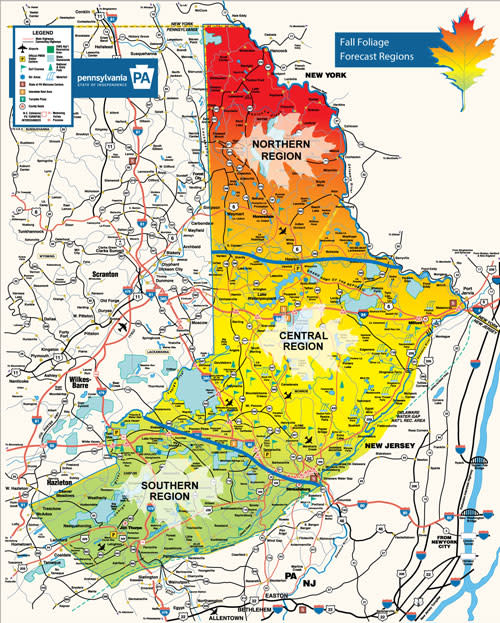 View our geographic map of the Pocono Mountains to see our three color zones. The map will be updated beginning September 8, 2016.
Northern:
Central:
Southern:
For all things fall, visit our Fall Fun page. Plan your getaway today and search for fall festivals or activities; browse special fall offers for overnight stays and view the foliage in real-time through our live cameras.
Our list of 25 Ways to View Fall Foliage highlights popular autumn activities and our Leaf Peeping FAQs page offers in-depth info and scenic drive ideas. Experience the beauty of autumn in the Pocono Mountains.