Ski and Ride Card
Thank you for your interest in the 2016-17 Pocono Moutnains Ski and Ride Card!
Our 2016-17 Pocono Mountains Ski and Ride Cards have all sold out and are no longer available.
Cards that have been purchased should be presented at the ticket window or at guest services one time at any or all participating ski areas. The Ski and Ride card is valid January 2, 2017 through the end of the 2016-17 season. Blackout dates are January 14-15, 2017 and February 18-19, 2017. Offer cannot be combined with any other offers or discounts. Card is non-transferable and cannot be replaced if lost or stolen.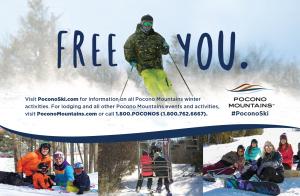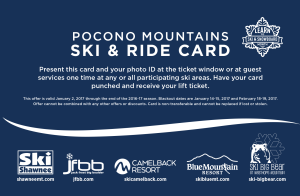 Find seasonal paradise at Jack Frost Big Boulder Pocono Resort in the heart of Pennsylvania's scenic Pocono Mountains. Our Pocono…View Listing ›
With trails and terrain parks for all levels of riders, Blue Mountain Resort is a premier destination for skiing. The choice is…View Listing ›
With 34 trails, 16 lifts, 7 distinct eateries, 100% snowmaking and all terrain illuminated for night skiing and riding, Camelback…View Listing ›
Find seasonal paradise at Jack Frost Big Boulder Pocono Resort in the heart of Pennsylvania's scenic Pocono Mountains. Our Pocono…View Listing ›
A family-friendly resort, Shawnee Mountain offers excellent children's programs, unrivaled beginners' packages and some great…View Listing ›
Ski Big Bear offers skiing, snowboarding and snowtubing. Eighteen trails, six lifts, a terrain park and 100% snowmaking provide…View Listing ›