Celebrate Mother Nature with us at these fun, eco-friendly Earth Day events coming soon to the Pocono Mountains.
21st Annual Earth Day Festival
Pocono Environmental Education Center
Date: April 16, 2016
Time: 10 a.m. to 4 p.m.
Cost: $5 per car
PEEC's day-long party for the planet features interpretive hikes, hands-on learning stations, conservation exhibits, food, crafts, music and more!
Insider Tip: Bring along something to tie-dye.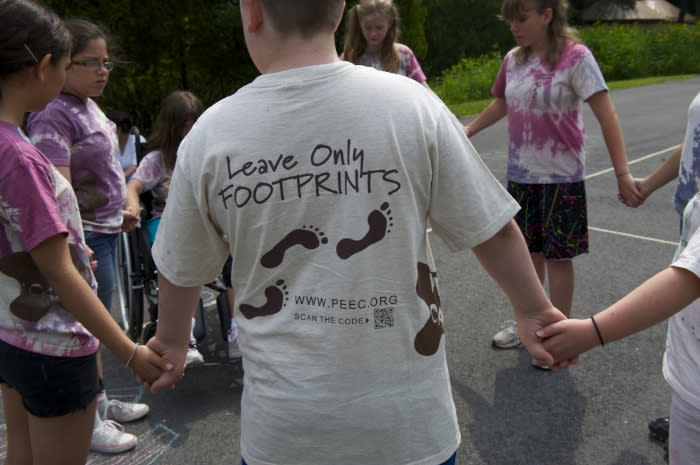 Hawley EarthFest
Downtown Hawley
Date: April 22-24, 2016
Cost: Free! Fees apply to certain activities; see schedule for details
Hawley EarthFest is three days of eco-friendly fun for the whole family. Tour the town for demonstrations, sales, arts and crafts, food, music and other activities all weekend long.
Insider Tip: Don't forget your costume! The #WildHawley Species Parade is set for Saturday, April 23, 2016 at 2 p.m.
Jim Thorpe Earth Day
Downtown Jim Thorpe
Date: April 23, 2016; Rain Date: April 24, 2016
Cost: Free! Fees apply to certain activities
Downtown Jim Thorpe's Earth Day celebration begins with a 5K Earth Day Hippy Run/Walk and keeps the energy flowing all day long. Highlights include wellness programs and workshops, children's activities, and continuous entertainment on stages throughout town.
Insider Tip: Rather ride than run? Hop aboard the Bike Train for unmatched views of the Lehigh Gorge! Ride the rails and then bike the trails back to beautiful Jim Thorpe. Saturday's excursion begins at 9 a.m.  


Monroe County Earth Day
Northampton Community College's Monroe Campus
Date: April 23, 2016
Time: 10 a.m. to 4 p.m.
Cost: Free!
It's all about the Earth at this community event sponsored by the Monroe County Conservation District and Northampton Community College. Festivities include workshops and tours, e-cycling* and give-and-take events, children's activities, animal and agricultural exhibits and live music from local performers.
*Some restrictions apply. See website for details.
Grey Towers Heritage 8K Run/Walk for the Beeches
Grey Towers National Historic Landmark
Date: April 23, 2016
Time: 7:30 a.m. Registration; 9 a.m. Start
Cost: $30/adult; $15/youth (17 and under); $5/child under 12
This annual Earth Day celebration supports restoration projects at Grey Towers. The course follows the Pinchot Greenway through Milford Borough to Milford Beach and back to Grey Towers. Proceeds from this year's event go toward the preservation of Gifford Pinchot's favorite trees, the European Copper Beeches. The Grey Towers National Historic Landmark is the ancestral home of Gifford Pinchot, conservationist and first Chief of the US Forest Service.
Keep the goodness going all year long! Learn easy ways to green up your stay in the Pocono Mountains and check back next week to see how small changes are making a big impact at hotels and attractions across our area.