According to Destination Weddings & Honeymoons Magazine, a destination wedding is one that takes place at least 100 miles from the bride's residence. For couples in Philadelphia and New York, the Pocono Mountains is right on the edge. It's close enough to arrive by car, and just far enough to feel like an escape. As this Destination Weddings article states, "Wed away, and you won't have to choose from the same old hometown spots all your friends have booked."
Wed in the Pocono Mountains, and you'll get a one-of-a-kind celebration in a one-of-a-kind setting. Here, four distinct seasons influence an ever-changing landscape of rolling hills, thriving woodlands, clear lakes and waterways; wedding venues range from sprawling resorts to charming inns, B&B's, parks and banquet halls, and professionals draw from decades of experience to design celebrations that exceed expectations.
Seemingly endless options await brides and grooms in the Pocono Mountains. Our interactive wedding builder makes it easy to refine the search based on common wedding wishes. Give it a try, and take a look at what event planners and happy couples are saying about weddings in the Pocono Mountains.
---
ON THE LOCATION:
"Only a few hours away from the Northeast's major metropolitan areas, Woodloch's serene lake and mountain setting allows guests to feel like they're a world away from all of the urban hustle and bustle."
– Erica Bloch, Marketing & Public Relations Manager – Woodloch Resort
---
ON THE SCENERY:
"Your wedding is the most important day of the year, and at Camelback Resort it's not just a wedding - it's an experience. The day you've always dreamed of with views you'll never forget. Say 'I do' with a breathtaking backdrop of the Pocono Mountains, then dance the night away under the romantic lights of our grand ballroom. Create an interactive wedding experience for your guests, guaranteed to have your guests toasting you at the end of the night. To have. To hold. To never forget."
– Erin Calpin, Senior Marketing Manager – Camelback Resort
"One of the biggest advantages to a Pocono Mountains wedding is the beautiful scenery. The Poconos are definitely an all-seasons destination with a beautiful backdrop for any wedding. From lush summery greenery to a sparkling winter wonderland – the Pocono Mountains has it all."
– Sandy Olssomer, Event Sales Manager – Cove Haven Entertainment Resorts
"Our beautiful bodies of water are one of the many things that draw in our couples. From the cascading falls at Ledges, the calming sounds of the Riverside at Settlers, to the waves of Lake Wallenpaupack at Silver Birches, our couples are not only able to capture beautiful and timeless photos, but also create a wedding experience they and their guests will surely never forget."
– Chiara Marone, Wedding Coordinator – Ledges Hotel, The Settlers Inn, Silver Birches Resort
---
ON THE STYLE:
"Everyone wants their wedding day to be picture-perfect and, having your wedding at Blue Mountain Resort, provides just that. Everything we provide, including breathtaking views of the Pocono Mountains, modernly gorgeous ballrooms, and an award-winning culinary team, makes every wedding at our Resort one that you will never forget!"
– Blue Mountain Resort
"We typically hear that people really like our balance of rustic nature and modern amenities. 'A classic country style that says professional and excellence' is what one Bride wrote about us."
– Trout Lake Retreats
---
ON THE VALUE:
"Couples choose Stroudsmoor and the Pocono Mountains for their wedding celebrations for many reasons – some for the beauty of our environment, the flaming foliage, the snow-capped mountains and the forest of trees that makes the perfect setting for an outdoor wedding. Others choose the area for the convenient location to roadways and airports allowing for a not-so-distant destination wedding. The value of our products against other surrounding areas is of great interest to those couples on a budget, and there are many more reasons for celebrating in the Pocono Mountains."
– Linda Forte, Director of Event Operations, CWP, Stroudsmoor Country Inn
---
ON THE AMENITIES:
"Woodloch is not just a location for a wedding; it's an experience. An all-inclusive resort set on over 1,000 sprawling acres, Woodloch offers wedding guests more than a place to sleep but also a place to play. The "cruise on land" feel of the resort provides guests with a complete vacation to surround the wedding. Along with activities for all ages including bumper cars, go-carts, a rock climbing wall, zip line and more, Woodloch also has an award-winning golf course, Woodloch Springs, and a destination spa, The Lodge at Woodloch, all within close proximity to the resort."
– Erica Bloch, Marketing & Public Relations Manager – Woodloch Resort
---
ON THE OPTIONS:
"Weddings and wedding planning can be a stressful task for any couple. Getting married in the Poconos alleviates a lot of that stress. We are an area where you have all-inclusive options for every wedding from an intimate elopement to a reception for hundreds of guests. Having a full-service wedding destination is one of the largest advantages to getting married in the Pocono Mountains."
– Cove Haven Entertainment Resorts
---
ON THE HOSPITALITY:
"In my experience as a wedding planner for some 32-years, the true reasons couples choose the area (and the Inn) is for the diversity of our offerings, and the gracious hospitality and warm welcome they receive from all the Pocono Properties. Whether they are planning to marry in the woods or overlooking the mountains, in a champagne shaped pool or at the top of a ski slope, the Pocono Properties welcome every couple with open arms and will happily help them create their vision of the #bestdayever!"
– Linda Forte, Director of Event Operations, CWP, Stroudsmoor Country Inn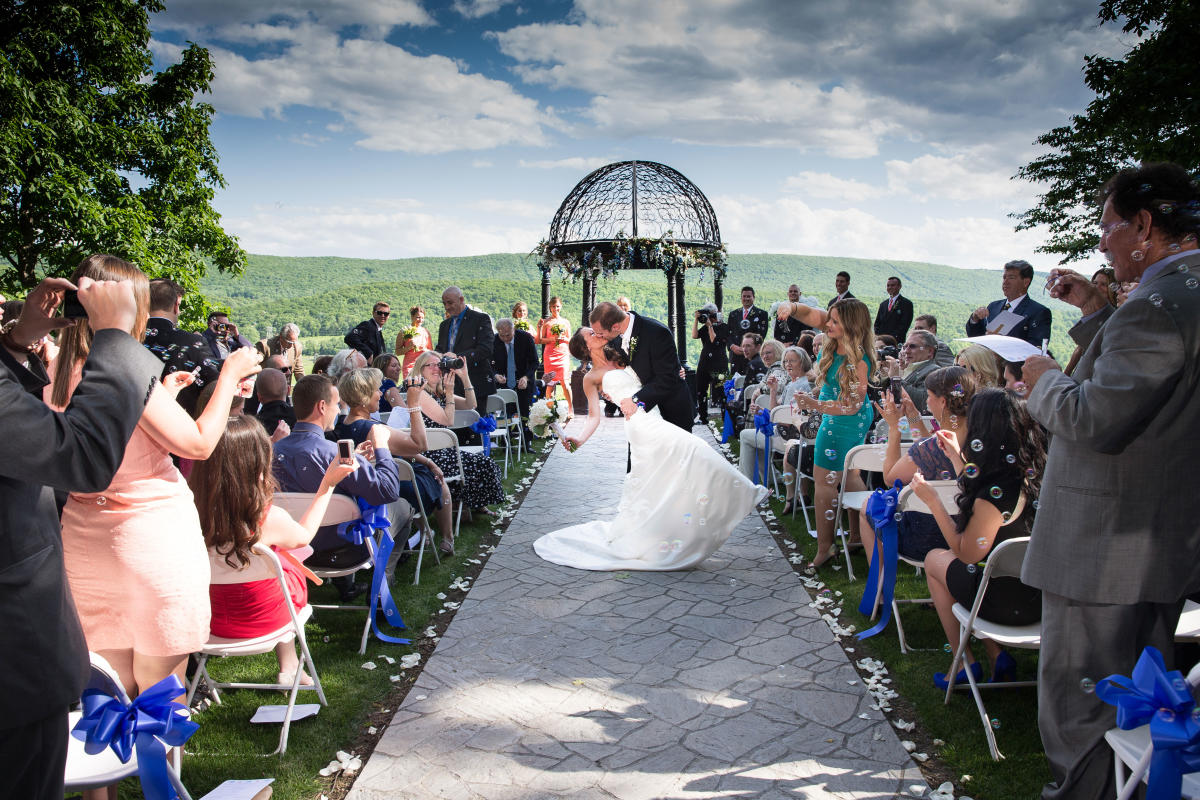 Photo: Stroudsmoor Country Inn
---
Check out our weddings pages to find the venue, packages and services perfect for your special day. Need a helping hand? Put your preferences into our interactive wedding builder and let us do the matchmaking.