If there's one thing we know in the Pocono Mountains, it's how to turn on the charm.

The Pocono Mountains is the former "Honeymoon Capital of the World," the birthplace of the heart-shaped tub, and the perfect place for your Valentine's Day getaway.Whether you're sneaking away for a day or settling in on a romantic trip for two, consider adding an event to your itinerary. February is filled with couple-friendly festivities sure to send sparks flying. Here's a look at eight date-worthy events coming soon to the Pocono Mountains:
Crystal Cabin Fever – Best of the Past 10 Years
Taking "chill" to a whole new level, Crystal Cabin Fever is a month-long festival centered around amazing ice carvings. This year's event celebrates the best of the past 10 years with expanded offerings including ice carving, wood carving and glass blowing demonstrations, complimentary hot chocolate and wine tastings, food, music and more fun for all ages.
Insider Tip: Be sure to bring your camera! The ice throne is a prime "usie" spot.
(An "usie" is a selfie with more than one person. It's a thing. We checked.)
Date: Every Thursday-Monday; February 5-28, 2016
Time: 11 a.m. to 5 p.m.
Cost: $15/adults; $10/children ages 3-14; under 3 free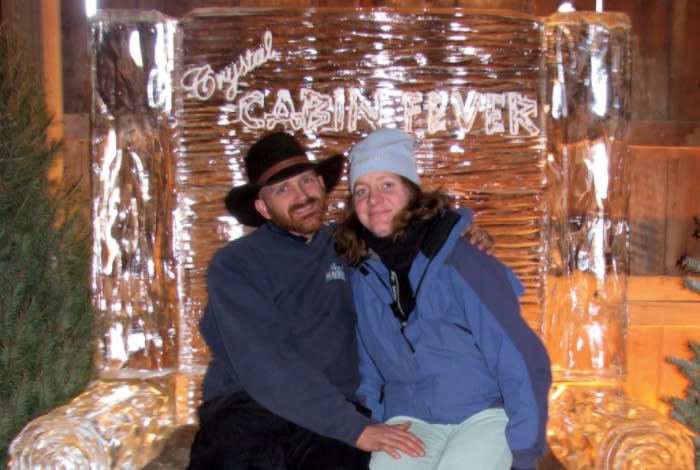 Vow Renewal Event at Mount Airy Casino Resort
Say "I Do" all over again! When you renew your vows during this special Valentine's Day event at Mount Airy Casino Resort, you'll receive a complimentary slice of wedding cake and $10 in free play.
Date: February 12, 2016
Time: 2:30 to 4:00 p.m.
Cost: TBD; Call to reserve your spot: (877) 682-4791
WinterFest in Downtown Stroudsburg
Walk hand in hand through a winter wonderland during this festive event in Downtown Stroudsburg. See over 40 ice sculptures and live ice carving demonstrations, warm up with winter-themed food and drinks, and enjoy cool discounts from Stroudsburg's shops and galleries.
Date: February 12-13, 2016
Time: Friday 5-7 p.m.; Saturday 9 a.m.-6 p.m.
Cost: Free! Fees apply to certain activities
Valentine's Dinner Theater at Ehrhardt's Waterfront Resort
Fine food, lakefront views and a lively stage show make up the menu for this annual Valentine's event at Ehrhardt's. This year's production is "The Amorous Ambassador" by Michael Parker.
Insider Tip: Get there by cocktail hour to watch the sunset on the lake. There's nothing more romantic!
Date: February 12-14, 2016
Time: Cocktails 5:30 p.m.; Dinner 6:30 p.m.; Showtime 8:30 p.m.
Cost: Friday & Sunday $39/per person; Saturday $44/per person; Reservations required
Jim Thorpe Winterfest
For couples, families and friends, Jim Thorpe's annual Winterfest makes a great date. Events include ice and wood-carving demonstrations, scenic train excursions, horse-drawn carriage rides and the famous Jim Thorpe Mug Walk.
Insider Tip: Go for the Mug Walk! Purchase a $10 souvenir mug at the train station and carry it with you during the festival. Businesses all over town will fill it for you, free! 
Date: February 13-14, 2016
Time: Varied; Train rides begin at 11 a.m.
Cost: Free! Fees apply to certain activities
The Perfect Pair Valentine's Weekend at Mountain View Vineyard, Winery & Distillery
Indulge in a tasting for two at Mountain View Vineyard, Winery & Distillery. This Valentine's Day event pairs delicious Kitchen Chemistry cupcakes with MVV sparkling wines.
Insider Tip: Bring home a bottle of bubbly! MVV sparkling wines are 20% off through February 14.
Date: February 13 -14, 2016
Time: Noon to 5 p.m.
Aerial Gypsy Burlesque
Hit the town for a sizzling night of burlesque comedy, song and dance! The Sherman Theater pays homage to its early twentieth-century roots with this fusion dinner theater event.
Date: February 14, 2016
Time: Doors and Dinner Buffet 6:15 p.m.; Showtime 8 p.m.
Cost: $42.50/dinner and show; $22.50/show only in advance
Libations & Creations with Jill – Cherry Blossom Mountainside
Treat your sweetheart to an evening of wine and design in the Northern Pocono Mountains! This Libations and Creations event will guide you through the process of painting a beautiful mountainside scene. All supplies are provided. BYOB.
Insider Tip: Plan ahead! Register 7 days in advance and receive 10% off the cost of the class!
Date: February 25-26, 2016
Time: 7 p.m.
Cost: $35 or $31.50 with early-bird discount
Interested in a few more options? Find information on concerts, carnivals, club shows and more February fun at PoconoMountains.com/events.