When it comes to fall colors, there's no better place for families to explore together than the Pocono Mountains. From outdoorsy and adrenaline activities to family-friendly fun and history tours, this guide will help you plan a getaway to that Poconos that the whole family is sure to love.
Outdoor Enthusiasts
From multi-day treks on the Appalachian Trail to quick waterfall walks, the Poconos fits the bill for all levels of adventuring leaf peepers. At Bushkill Falls, you'll find the "Niagara of Pennsylvania" among eight waterfalls spread through two miles of trails surrounded by changing leaves. Or you can take a quick jaunt to the Keystone State's tallest waterfall, the three-tiered Raymondskill Falls.
Ascend 1,060 feet over two miles on the iconic Appalachian Trail on the Mount Minsi path to see summer's blooming rhododendrons give way to colorful, falling leaves on this white-blazed trail with views of the Delaware Water Gap. Learn about the landscapes you see on Pocono Mountains hikes with naturalist-led environmental education events.
For cycling families, Jim Thorpe's rails-to-trails Bike Train lets you appreciate autumn on the 25-mile, one-way train ride. Enjoy your way back on a downhill bike ride back along the D&L Rail Trail. But for autumn vistas, there's no better view than on the water.
The whole family can paddle the untamed Delaware River on kayak or canoe trips past dense, colorful trees. With these trips, the gear and transportation are provided, so you don't have to plan a thing.
Adrenaline Junkies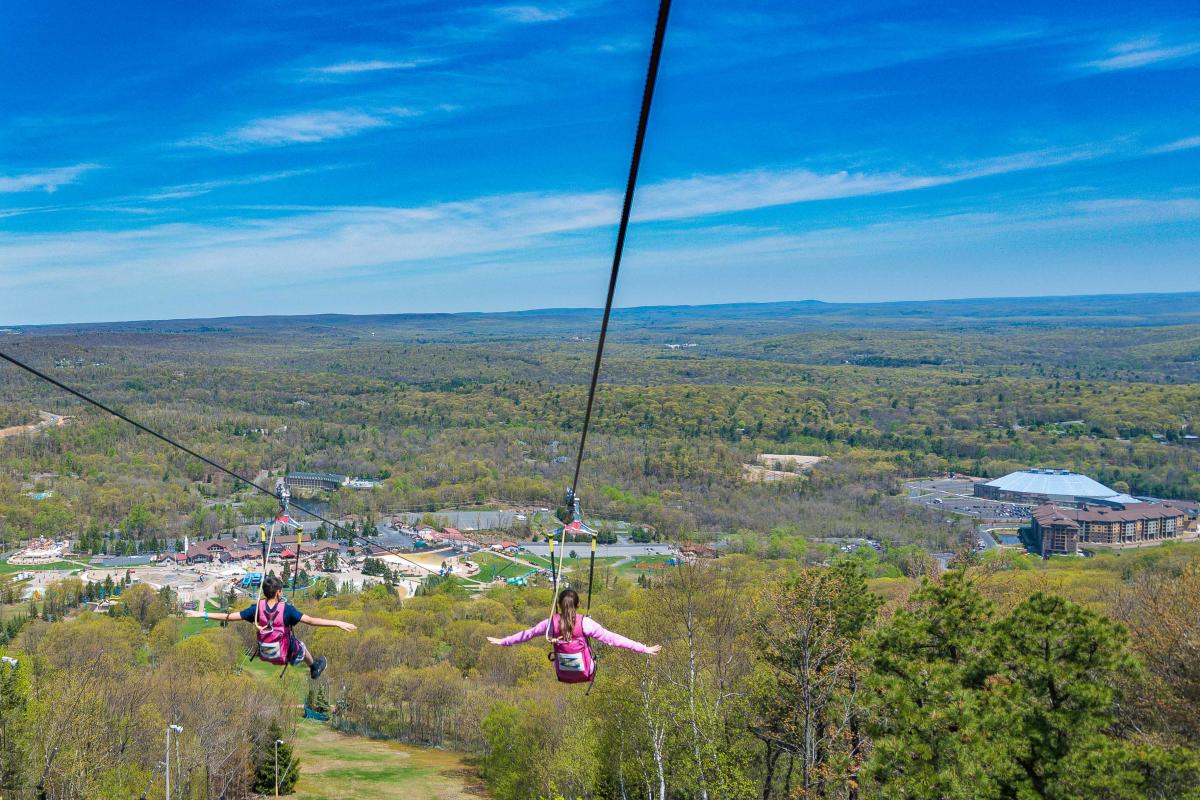 If your family enjoys more heart-pumping thrill rides, head to Camelback Mountain Adventures in Tannersville for its fall offerings that range from speedy zip lines to high ropes courses and fast mountain coasters. Start by having your family test their mettle on more than 100 obstacles on the high Treetops Adventure Course. Then soar above the brilliant changing leaves alongside a parent or sibling on North America's longest zip-flyer from the Camelback Mountain summit—where speeds can exceed 60 miles per hour. Watch the colors fly by with foliage views on the winding mountain coaster or alpine slide through the forest.
For the truly adventurous, try a tandem free fall from 13,500 feet above the Pocono Mountains by giving skydiving a try at Sky's the Limit Skydiving Center. From that height, the views stretch far enough to see the distant Manhattan skyline as you float back to Earth.
Rather float along with gravity? Seek bigger on-water thrills with the Poconos' mild whitewater floats, or bring your daredevils to the Lehigh Gorge for October's mega dam-release with Pocono Whitewater Adventures. The intense class II and III whitewater rapids are surrounded by vibrant, changing leaves and beautiful tall canyon walls.
Young Families
Pint-sized adventures are king in the family-friendly playground of the Pocono Mountains. Once the weather cools and outdoor pools close, take your kids to the region's four indoor waterparks where it always feels like beach season. Wet and wild slides, actual beaches, kiddie zones, and wave pools are family favorites, and staying at the on-site resorts make travel even more convenient. Find food, fun, and lodging all in one place with activities and eats designed with kids in mind. Arcades, ropes courses, and laser tag keep kids endlessly entertained, and waterpark admission is typically included with your stay.
Beyond the resorts you'll find a number of local festivals celebrating autumn. From hayrides and pumpkin painting to chairlift rides and historic reenactments, there are plenty of ways to celebrate the changing seasons. If your kids love giraffes and lions more than face painting and crunching fall leaves, head to Claws 'N' Paws Wild Animal Park where they'll see more than 100 animals—some that they can even feed.
Once the munchkins are too tired to walk, hop aboard a historic train to cruise past gorges, rivers, mountains, and charming small towns. The kids will be wowed be the ride and can nap the whole way back while you enjoy the fall color vistas in peace.
History Buffs
If these hills could talk, they'd have a story to tell. That's the case in the Pocono Mountains where mining history, local lore, and preserved old buildings weave the tales of the Poconos' past. When coming to see fall leaves, take time to visit preserved historical sites that dot the Pocono landscape and showcase the way life was here way back when.
Start by staying at a family-friendly historic lodge like Skytop Lodge or Woodloch Resort—both home to epic autumn panoramas—then explore old Victorian homes like the Asa Packer Mansion in Jim Thorpe, an unrestored 19th century home that's open all October long for leaf-peeping crowds.
In the town of Milford, Grey Towers is a fascinating old summer estate mansion to tour, but in the fall it's the surrounding grounds and gardens that make it such a stunning sight. The property's diverse trees have a brochure of their own and many change to lively colors before fading with the end of autumn. Explore another nearby mansion-turned-museum at the Columns Museum, which houses the Lincoln-era flag, exhibits on local summer camps, World War II posters, and a steel girder from the World Trade Center tragedy.
When you all tire of mansions and museums, take the kids to a historic site they're bound to love: No. 9 Mine Museum Mine & Museum. An operating anthracite coal mine from 1855-1972, the attraction now features a 1,600-foot railway that you can ride into its depths. Inside they'll see a miners hospital, a mule-way, and the original 900-foot elevator shaft. It's a fun way to teach history with a side of adventure.
No matter where you go in the Poconos during the fall, you'll be surrounded by the colorful trees that have been drawing people to this section of the state of generations. The activities may change, but families continue to find the region a perfect getaway for an autumn adventure.
Written by Jenny Willden for RootsRated Media