Hawley Harvest Hoedown
Mark your calendar for Hawley Harvest Hoedown to be held Saturday, September 30 and Sunday, October 1, 2023!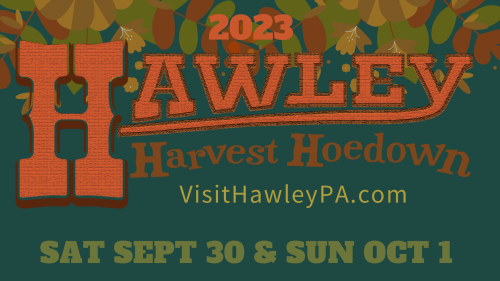 Hawley Harvest Hoedown has been a popular community festival for 30+ years. This celebration of all things fall includes hayrides, live music, kids activities, craft and artist vendors, and plenty of good food.
Follow Downtown Hawley Partnership on social media for the latest updates about this year's event. If you would like more information on how to be involved in the 2023 Hoedown, please call our office at 570-226-4064.
ADD LOGO
Participate in the Hawley Harvest Hoedown this year and learn more about fantastic area events!
More details coming soon!

Scarecrow Contest

Scarecrow Display

Beard & Mustache

Cornhole Competition

Welcome market vendors!

We love to see all of the creative, handmade crafts that are special to our area.

During the Hoedown, Keystone Street and Church Street will be closed down to accommodate the variety of vendors who attend this wonderful event.

Become a ventor at the 2023 Hoedown!

Your sponsorship is an investment into our future and supports the community events and general operation of the DHP. 

The 2023 Sponsorship form is a complete listing of all of our planned events on one sheet for your convenience. The different sponsorship levels show various benefits, please choose the level that fits the needs of your business. 

Please download the Sponsorship Form to choose your level and mail it in with your payment.

DHP P.O. Box 584 Hawley, PA 18428

Thank you for your generosity and your continued support. 

Downtown Hawley Partnership
P.O. Box 584
Hawley, PA 18428
Office Phone: 570-226-4064