Events Calendar
There's always something exciting coming up on the calendar in Jim Thorpe.
Whether you're catching a concert or taking a special train excursion, celebrating the seasons during the Jim Thorpe Fall Foliage Festival or Jim Thorpe's Olde Time Christmas, there are lots of happenings in and around this historic town throughout all four seasons. Use the calendar tool below to find things to do this weekend or during your upcoming trip.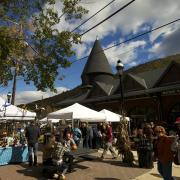 X
Fall Foliage Festival Parking
Make the most of your visit to Jim Thorpe... arriving early always makes parking easier. Click below for parking information. Note that additional lots are available select weekends in October during the Jim Thorpe Fall Foliage Festival.
Parking Info