Jim Thorpe, PA
Offering both the charms of a European village and the thrills of a mountain sports destination, this historic town nestled in Lehigh Gorge in Carbon County is one of the great gems of the Poconos.
Founded in 1818 and originally known as Mauch Chunk, Jim Thorpe is now named after the greatest athlete of all time, and there's plenty of rich history to discover. The elegant Victorian mansions which were once home to turn-of-the-century industrialist millionaires have been revitalized, and today house unique shops, dining, bed & breakfasts, museums, galleries and popular entertainment venues. Keep reading to learn more about parking and things to do in and around Jim Thorpe!
About the Town:
Once the second most popular tourist destination in the country right behind Niagara Falls, the town of Jim Thorpe is no stranger to hospitality. Visitors from all over the world come to wander the inviting old world streets and to discover exhilarating outdoor adventure right on the town's doorstep in Lehigh Gorge State Park. Find things to do and see as you explore the town of Jim Thorpe in the Poconos: don't forget to stop by the Pocono Mountains Visitors Center in Jim Thorpe located on Route 209 inside the train station.
Sweet memories are made in historic Jim Thorpe, and adventurers both young and old are welcome. The town's seasonal festivals like Jim Thorpe Fall Foliage Festival and Jim Thorpe's Olde Time Christmas bring family-friendly entertainment to the streets and sidewalks, and abundant local attractions ensure there's fun to be had in any weather at all times of year.
Witness Downtown Jim Thorpe in all its autumn splendor. Take in the fall colors and explore the festival weekends in October!
The open road is calling! Packed with natural beauty, charming small towns and local hidden gems, the Pocono Mountains region of…
Live Camera:
Take in an in-the-moment view over the town of Jim Thorpe. Check out more live cameras in the Poconos.

History:
The roots of Jim Thorpe stretch back to the early nineteenth century when Josiah White, the founder of the town, discovered how to effectively use Anthracite coal as an energy source. The Lehigh Coal & Navigation Company was created and began mining operations in the surrounding hills at locations like the No. 9 Coal Mine & Museum. Innovative techniques were used to transport the coal, including dams, locks and canals along the Lehigh River as well as a Switchback Gravity Railroad which is known as one of the oldest roller coasters in the world. After its days of mining use were over, it became a popular thrill ride for Victorian tourists, who came to the area to enjoy the great outdoors and admire the incredible mansions of wealthy industrialists like Asa Packer. Jim Thorpe's Broadway Street was then known as "Millionaire's Row."
The town took on the name it holds today in 1954, when it became the final resting place for Olympian and famous Native American athlete Jim Thorpe. His legacy is honored every year during the Jim Thorpe Birthday Celebration in May, and his mausoleum and memorial can be found along Route 903.
Plan ahead and arrive early to secure a parking spot for your day in Jim Thorpe! There are parking pay kiosks located throughout Jim Thorpe, but each applies to a particular parking zone. Before you pay at a kiosk, double check that it is the appropriate kiosk for the zone that you parked in. View our Jim Thorpe parking page for maps and more information! In October, take advantage of additional weekend parking options including a pre-paid, reserved parking shuttle!

Originally called Mauch Chunk, the town was renamed in 1954 when it became the final resting place of Olympian and famous Native American athlete Jim Thorpe.

The town was founded in 1818 by the Lehigh Coal & Navigation Company and initially called Mauch Chunk which means "Bear Place" or "Bear Mountain" in the language of the Native Lenape people.

Check out seasonal festivities, see a show, ride the train and so much more: click here to check out events happening in Jim Thorpe and Carbon County this weekend.

The town of Jim Thorpe, PA is well worth visiting at any time of year! Snap photos along the beautiful old world streets, browse eclectic shops and restaurants, attend local festivals and shows, find one-of-a-kind, welcoming places to stay, dive into the area's rich history at local museums, or explore the incredible natural beauty of the surrounding Lehigh Gorge area with outdoor recreation like a whitewater rafting trip, a hiking or biking expedition, or a scenic train ride.
Making Memories in Jim Thorpe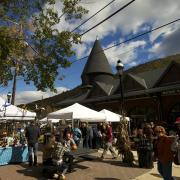 X
October Fall Foliage Festival Parking
Make the most of your visit to Jim Thorpe. Click below for parking information. Additional lots, including reserved parking are available weekends in October during the Jim Thorpe Fall Foliage Festival.
Parking Info