Who doesn't love a wholesome meal? Here in the Pocono Mountains we've harnessed delectable, home-grown nourishment and farm-to-table freshness for any time of the day. 
We all care about our health, and restaurants are starting to cater to that very notion. While our longevity is important, knowing where your food is from is, arguably, just as vital.
With the accessibility of local and organic ingredients, farm-to-table practices are becoming increasingly available. Read on for a list of Pocono Mountains restaurants that are serving up healthier, sustainable foods.
---
As the most important meal of the day, your favorite breakfast dishes are available, but with a new-age twist.
The French Manor Inn and Spa grow herbs on-site in the chef's garden, which are used in their dishes. Scents of oregano, sage, and thyme are immediately recognized when a breeze blows over the garden. An on-property bakery makes pastries and breads enjoyed during meals. You must try their homemade coffee cake; it is delicious!
The French Manor also incorporates local cheeses and vegetables into their recipes. The cheese is sourced from Calkins Creamery in Honesdale, PA while the asparagus is obtained from Springbrook in Greentown, PA.
Featured Dish: The Baked Omelet Roulette features Canadian bacon, white cheddar cheese, and asparagus with a hollandaise sauce.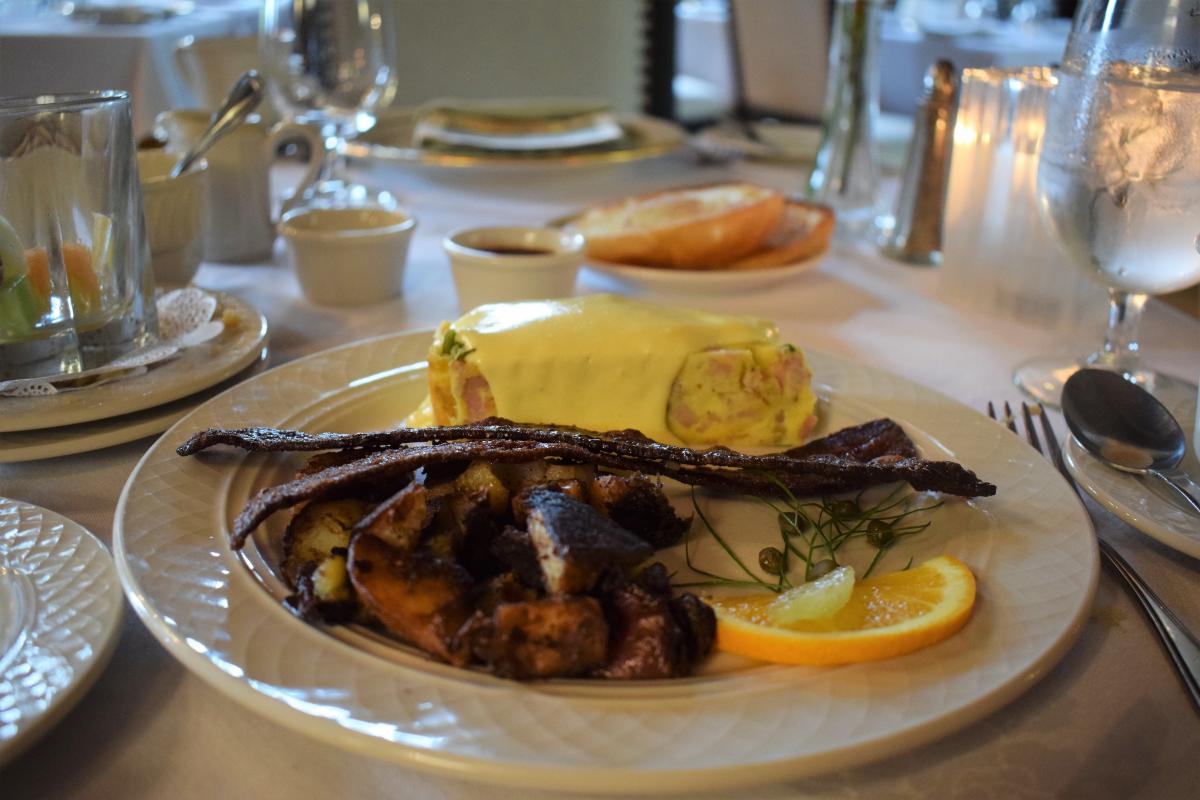 TREE Restaurant and Bar cultivates vegetables and herbs on-location in the Blackmore Farm-to-Table Garden. Herbs from the garden are also used for a selection of farm-to-massage table spa treatments. Dinners in the garden can be reserved on Thursday evenings for up to 16 of your closest friends. 
TREE sources sustainable seafood, hormone-free beef, free-range poultry, and organic produce from local businesses like The Lackawaxen Farm Company and Hardler Farm in Honesdale, PA. Select ingredients even promote brain health and restful sleep.
Featured Dish: Butchie's Farm Sausage Omelet incorporates roasted red peppers, avocado, and cheddar cheese ingredients that are locally sourced and gluten-free.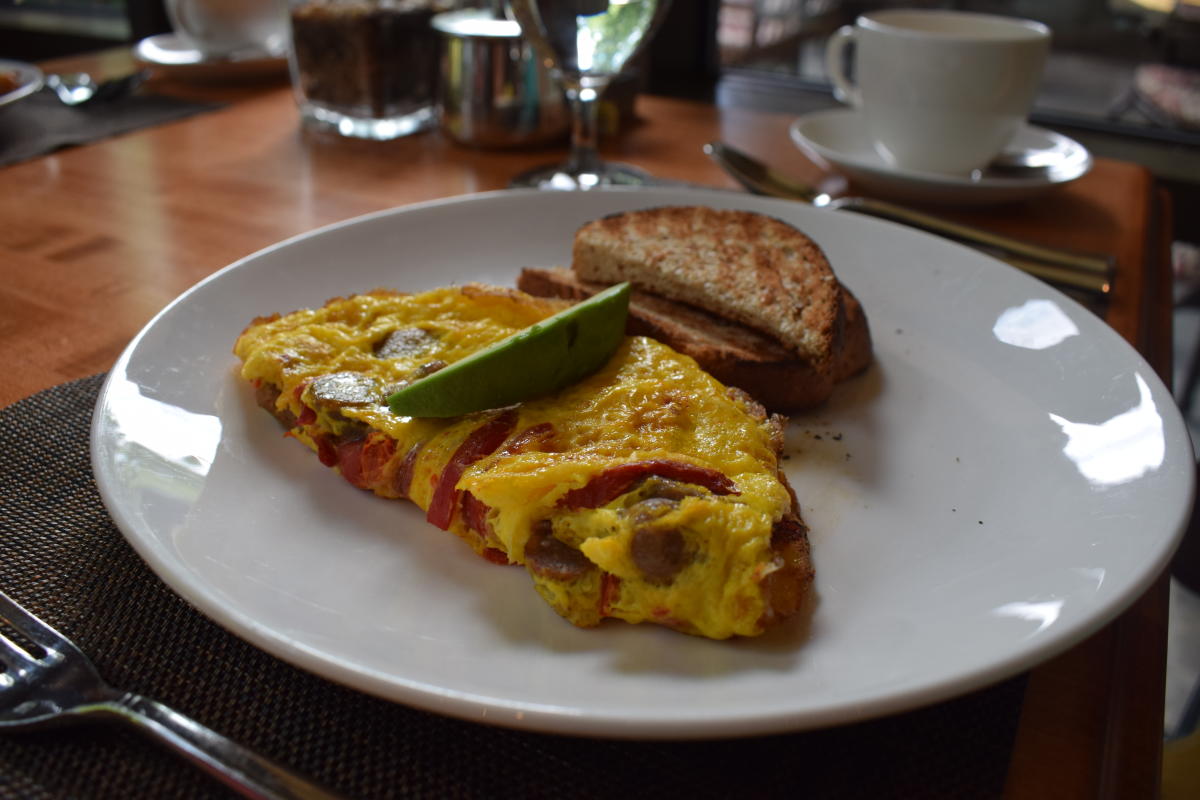 ---
Lunch:
Now that our mouths are watering, let's continue our journey right into lunchtime!
Cocoon Coffeehouse & Catering Company specializes in sandwiches, paninis and farm fresh salads. Cocoon makes an on-site grain salad and pesto while bread and croissants are baked daily across the property at the Mill Market.
Coffee beans are purchased from Electric City Coffee in Scranton, PA while cheese and tomatoes are obtained from Leraysville Market in Leraysville, PA. 
Featured Dish: The Turkey Bacon Ranchero combines sweet peppers, cheddar cheese, buttermilk herb aioli, and pico de gallo on sundried tomato bread.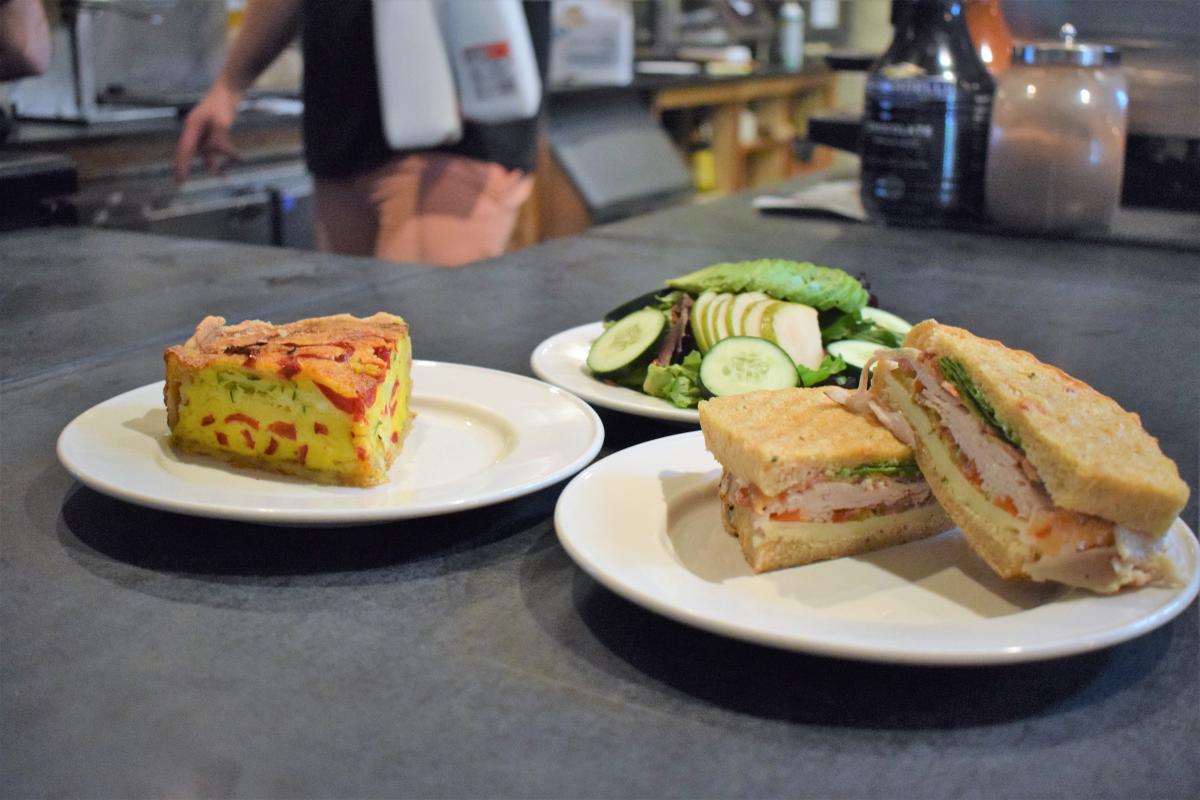 The Gem and Keystone Brewpub sources ingredients from two gardens on the neighboring Shawnee Island Farm. A wide variety of fruits, vegetables, herbs, and flowers are grown April through November. With an abundance of crop, on-property farmers' markets are held on Tuesdays from June until mid-September.
The Gem offers a variety of menu items with ingredients from Shawnee's gardens. Mixed field greens, produce, and herbs are among the most popular harvested. 
Featured Dish: The Strawberry and Goat Cheese Salad harmonizes wood-grilled chicken, mixed greens, strawberries, toasted almonds, and creamy goat cheese with balsamic dressing.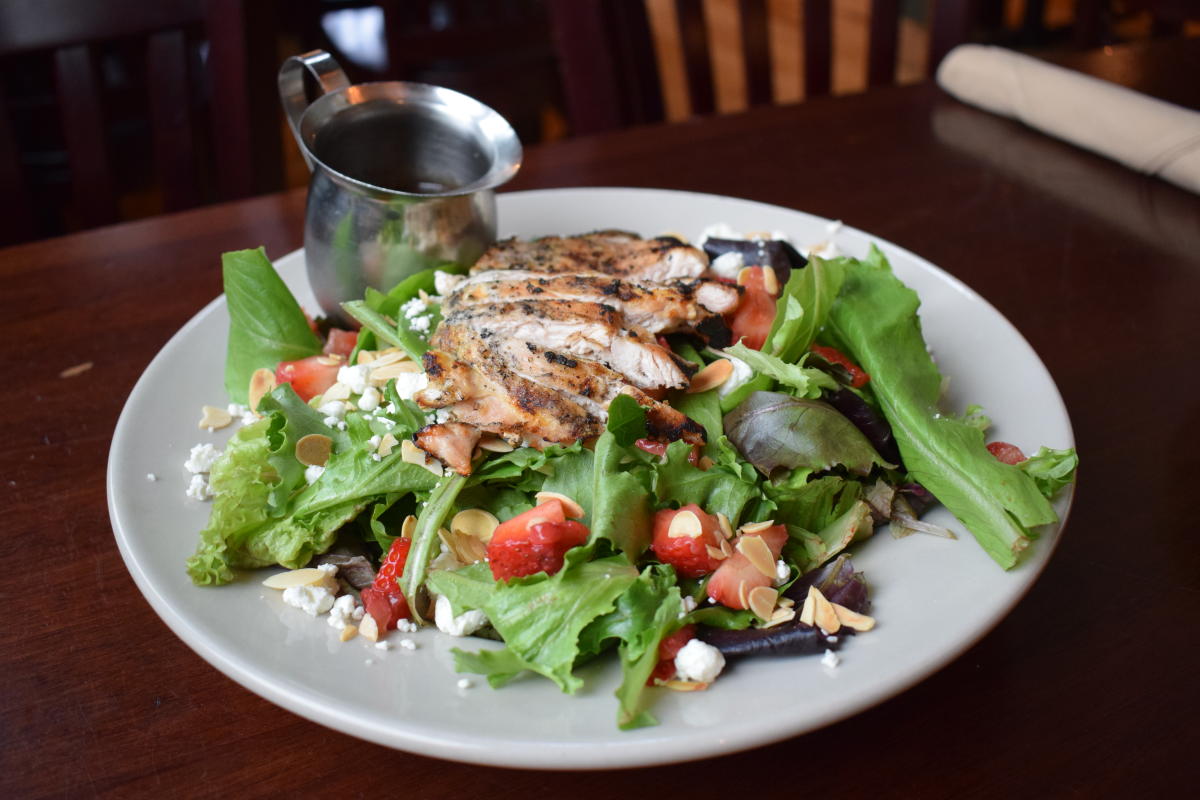 ---
Dinner:
We're still hungry, and bet you are too.
The Delmonico Room at Hotel Fauchere grows vegetables in a large, organic garden and greenhouse at Foster Hill Farm in Milford, PA. Asparagus and rhubarb are of particular interest this growing season, and are integrated into various dishes.
Other ingredients come from local farmers, such as Vine Hill Farm and Kittatinny Mountain Farms, NJ. The Delmonico Room at Hotel Fauchere also frequents the local farmers' market in downtown Milford, PA. They also work with local foragers who meet their specifications.
Featured Dish: The Mothers Milk Veal features grilled asparagus, emmer porridge, butter milk foam, and miners lettuce.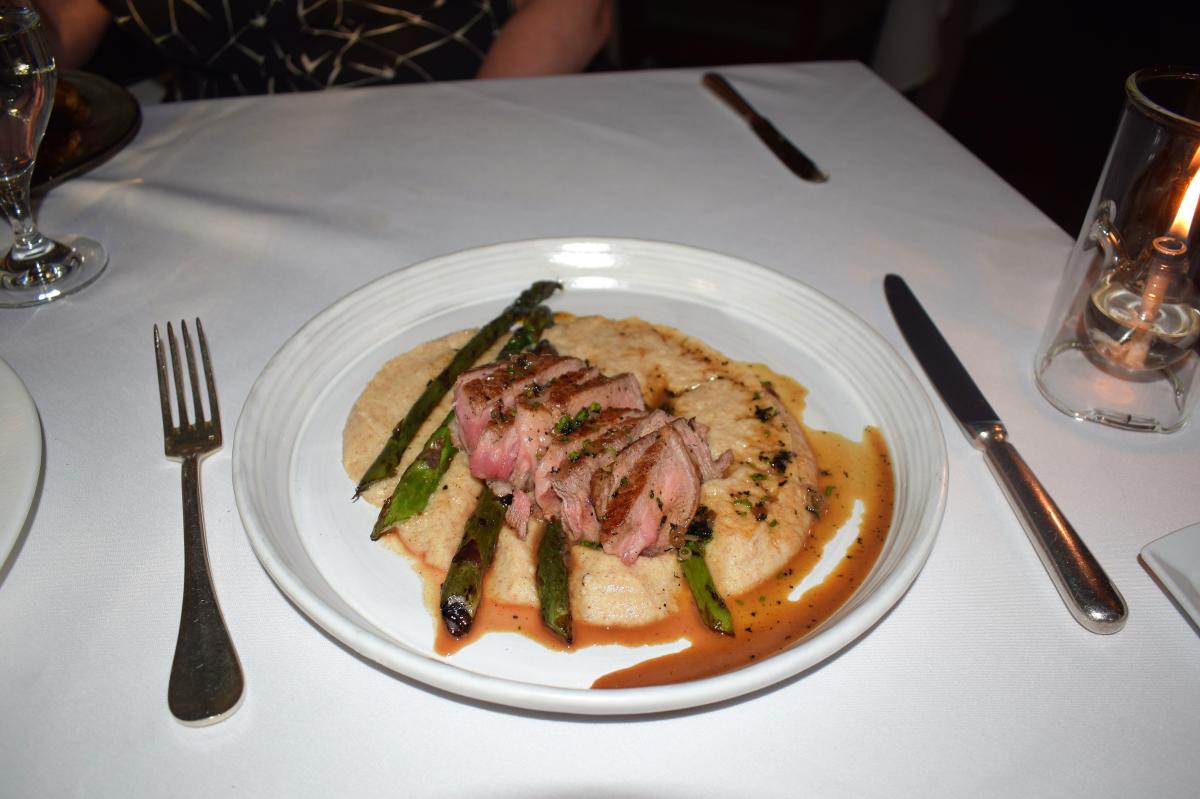 The Settlers Inn at Bingham Park grows herbs and edible flowers, such as pansies and daisies, that are used throughout their recipes. The Settlers Inn confides in companies with impeccable reputations for sustainability and designs their menus seasonally around local farmers.
Produce is locally sourced through farms, including The Lackawaxen Farm Company in Honesdale, PA and Lato Sud Farm in Beach Lake, PA. Beef is accessed through a co-op in Lancaster, PA. 
Featured Dish: The Jail Island Salmon combines black forbidden rice, apricot sauce, and a rhubarb cucumber salsa.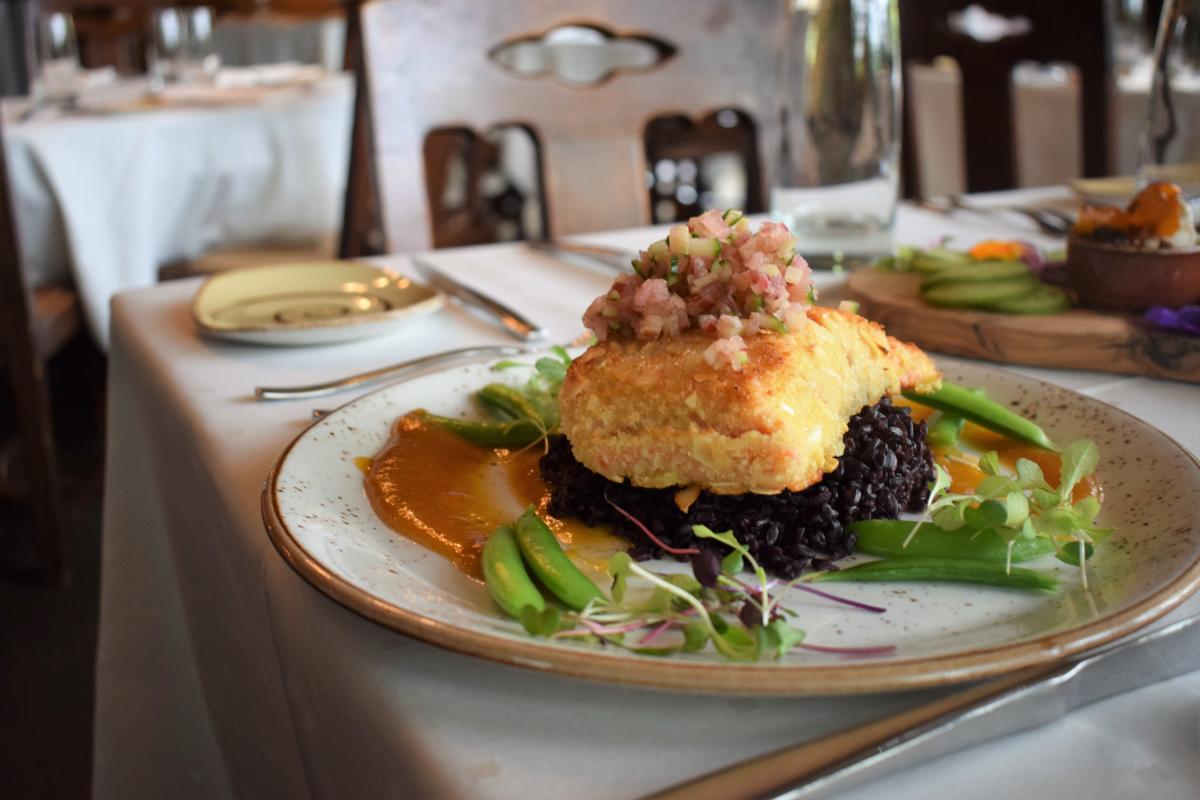 ---
With the versatility of farm-to-table practices displayed, there is no confusion as to why it is so popular. In sourcing local and organic ingredients, these restaurants have shown their care and dedication to health and community without compromising taste.
View our restaurants and dining page for all eatery options throughout the region. Check out our events page to find local farmers' market happenings. Thanks to our Pocono Mountains farm-to-table restaurants for sharing your practices and dishes with us!