Eagle Watching
Ever spot an American bald eagle?
Bald eagle watching is a very popular winter activity in the Pocono Mountains. In December through March, the Upper Delaware Scenic and Recreational River and the Lackawaxen River are special spots for sightings whenever the waters are not frozen. The eagles migrate south from Maine and parts of Canada to reach open waters in which to feed. The Pocono Mountains provides an ideal habitat with clean water and undisturbed land with lots of food and large trees in which to roost, perch and nest.
Bald Eagle Watching Tours in the Poconos
Eagles in the Upper Delaware River Region
Eagles, like people, need healthy lands and clean waters to thrive. The rivers and forests along the upper Delaware and Lackawaxen Rivers are excellent eagle habitat. Each winter, the Delaware Highlands Conservancy hosts guided Eagle Watch bus tours and educational events about the eagle and where and how it lives, engaging thousands of residents and visitors with our iconic national bird and the beautiful forests and rivers that are home to it.

For the safest and least intrusive viewing experience, please read the Eagle Etiquette.
In partnership with the National Park Service, the Conservancy staffs the Upper Delaware Visitor Center in Lackawaxen near the historic Roebling Bridge and Zane Grey Museum, which features interpretive exhibits, a short film, and information on eagle-viewing.
Eagle Sighting Map
Download a PDF of the below map: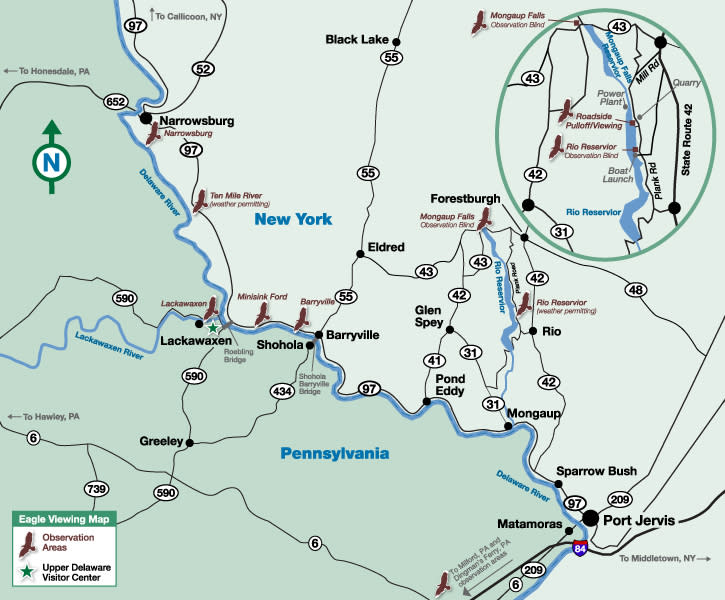 The Conservancy's mission is to protect the healthy lands and clean waters upon which eagles and people depend. Click for more information on tours, "Eagle Etiquette" and how to have the best experience, and eagle watching opportunities with the Delaware Highlands Conservancy.
Delaware Highlands Conservancy:
Phone: (570) 226-3164 or (845) 583-1010
Email: [email protected]
Green Lodging: DelawareHighlands.org/greenlodging