Poconos Restaurants & Dining
Pocono restaurants run the gamut from ethnic favorites like Thai to Italian, fine dining four-star cuisine to down-home family cooking.
The region's evolving restaurant scene goes well beyond a deli and cafe and brew pub or bar & grill. Expect the extraordinary in the Pocono Mountains, whether it's organic, local game, Chilled Strawberry & Rhubarb Soup or Roasted Lobster "Newburg".
Poconos chefs use flair and creativity to produce delicious dishes. There are several local farm to table restaurants, and the Pocono Mountains' downtowns are a great spot to relax at one of the many sidewalk cafes. Many restaurants also feature live music from jazz to acoustic. Restaurants in the Pocono Mountains can accommodate everyone's taste and appetite. While here, visit a bakery for that special treat or make plans for your special event at a unique location. When enjoying the gaming scene, grab a bite at one of these casino dining options.
Read Our Dining Blogs
Best Burgers in the Poconos
Carnivores rejoice! We've scouted the best burgers to enjoy while working up an appetite in the Poconos. Caution; drooling mouths and growling stomachs have been reported while reading.
Best Cheap Eats in the Poconos
You shouldn't have to choose food based on price, and here in the Poconos you don't have to. Gather 'round for some tasty meals that won't break the bank. 
The Poconos on $45 a Day
Whether you're balling on a budget or wanting more bang for your buck, we've got some suggestions for you to eat more and spend less in the Poconos!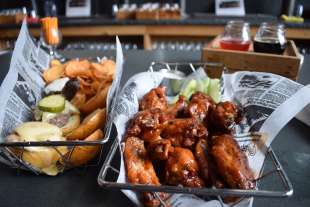 Calling all foodies! The Pocono Mountains are home to cafes, breweries, bakeries, pubs, steak houses, and more!