The 2023 Pennsylvania Trout Season will officially kick off on Saturday, April 1, and the stocked waters of the Pocono Mountains are calling! Start planning your fishing getaway now to explore our 150 pristine lakes and 170 miles of winding, scenic rivers this spring or summer.
From the mighty Lehigh River on our western border to the peaceful Delaware River on our eastern border, from sprawling Lake Wallenpaupack to small and inviting creeks and ponds throughout our four counties, anglers will find the largest number of high-quality and exceptional-value streams in the Commonwealth in the Poconos region. Whether you've got your own gear and license ready to go, you're looking for a local pay lake, or are planning to book a trip with an area fishing guide, discover tips and information about fishing in the Pocono Mountains.
Angling Information
Angling Information
The PA Fish and Boat Commission (PFBC) celebrates a single statewide opening day of trout season on Saturday, April 1, 2023. The PFBC will trout stock throughout the season on an efficient schedule. Search for the four counties in the Poconos (Wayne, Pike, Monroe and Carbon) via the online trout stocking schedule to see when different locations will be freshly stocked. Where do those fish come from? One of the hatcheries managed by the PFBC is Pleasant Mount State Fish Hatchery right here in the Poconos. The hatchery is open to the public for tours any day of the year. Learn more in the segment below from Pocono Television Network.
All anglers will need to have current PA fishing licenses, launch permits, and boat registration renewals ready for the start of the season. These can be purchased online from the PFBC official website. Be sure to purchase early to allow time for any validation decals or registration cards to be sent to you in the mail from the PFBC. Anglers and boaters can also display their fishing license, launch permit, or boat registration digitally on a phone or other mobile device as proof of possession.
A valid PA fishing license (with trout/salmon permit if fishing for trout) is required for anglers 16 and older. Numerous options, including one, three, and seven-day tourist permits, are available for visitors. Keep in mind, fishing licenses are not required at pay lakes in the Pocono Mountains like Big Brown Fish & Pay Lakes or Paradise Fishing Preserve.
Gearing Up
Gearing Up
Make sure you have everything you need before setting out to seek the trout! Here's your fishing check list:
Valid PA fishing license (with trout/salmon permit if fishing for trout) for anglers 16 and older.
Your rod and reel of choice! If you're new to fishing and plan to try your luck at Lake Wallenpaupack, you can borrow rods, reels, and a tackle box full of hooks and other terminal tackle free of charge from the Lake Wallenpaupack Visitors' Center, open daily from 9 a.m. to 5 p.m.
Tackle box with lures and bait. Early in the season, your best bets for bait are mealworms, earthworms, and salmon eggs.
Extra hooks, sinkers, and fishing line, as well as needle nose pliers or a hook remover. Don't forget a set of nail clippers to handle line tangles.
If you'll be out on the water, don't forget your life jacket!
Dress for the weather: add layers early in the season to stay warm, topped with a waterproof jacket if there's rain in the forecast. Later in the season, don't forget your sunscreen, sunglasses, and a hat!
Planning to try fly fishing in local waterways like Brodhead Creek and McMichael Creek? You'll want waders, boots, a fly rod and reel, and, of course, an assortment of flies.
If you need to purchase fishing gear before your trip, stop by Dunkelberger's Sports Outfitter in downtown Stroudbsurg to find everything you need. Another way to ensure you don't leave anything behind is to book a trip with an experienced guide! Reach out to Captain Joe's Fishing & Waterman Service in Lake Harmony.
Guided fishing, fly fishing, rod rentals and more located on the beautiful Lake Harmony. Operated…
All About Trout
All About Trout
Pocono waters are stocked with brown, rainbow and brook trout, with the average size between nine and 11 inches. Colorful brown and brook trout are also native to many of the region's rated streams. Native trout are slightly smaller, typically ranging between six and eight inches. In Pennsylvania, trout must be at least seven inches long to keep. The inland daily creel limit on trout is five fish (combined species) during the regular season. Visit the PFBC Trout Season overview page to view regulations and learn more. The Pennsylvania state record for brown trout is 20 lb., 9 oz.
Take a look at catches anglers have made in the Pocono Mountains below. Be sure to tag your fishing photos with the hashtag #PoconoMtns. We would love to repost and share your photos too! Use #YesPMVB if you would like to give us permission to use your photo(s) in our future posts.
Catching the Big One
Fly Fishing in the Poconos
Fly Fishing in the Poconos
The rivers of the Poconos are great for fly fishing! Put on your waders, bring your favorite fly, and prepare to make your best cast. Fly fishing presents different challenges from spin or shoreline fishing, but some say it can be more effective for catching trout. There are many different factors to take into consideration when it comes to fishing success; researching the habitat, behaviors, and food source of a certain fish species will help to increase your chances of reeling in a catch.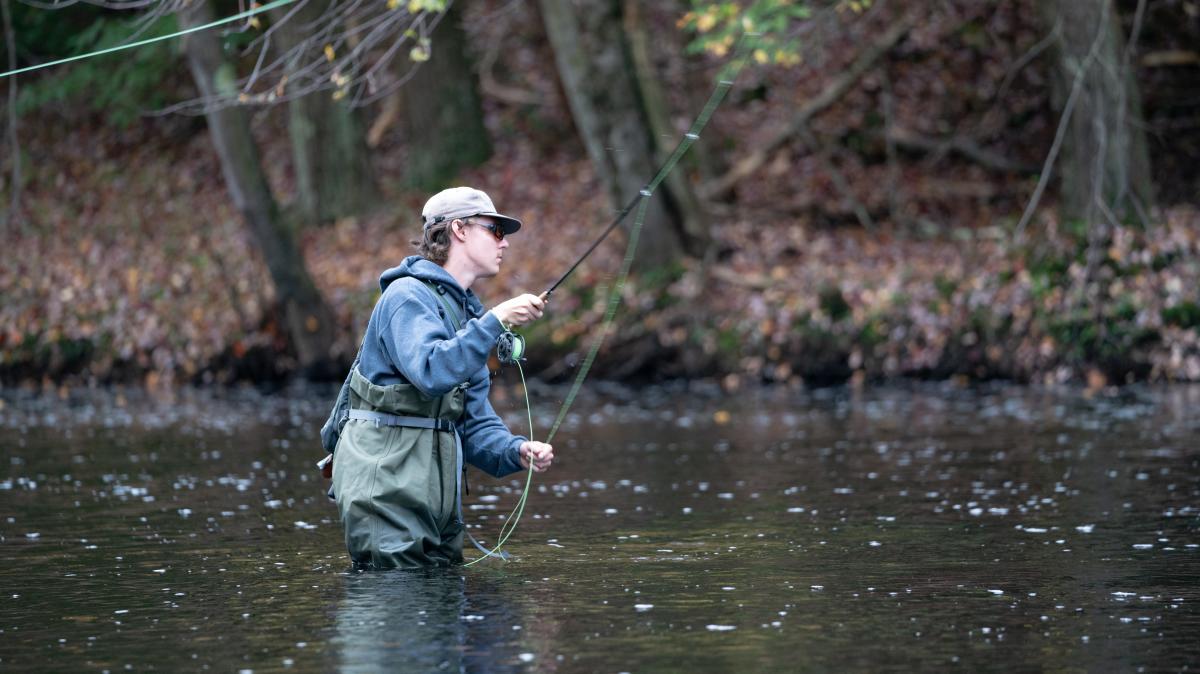 Fishing Tips & Locations
Check out these additional tips to reel in the big one:
If fishing in a low stream, look for structures in the water. Downed trees and pools around rocks make good hiding spots for trout.
In medium running streams, seek out rainbow and brown trout in ripples. They'll be nearby waiting for food to float by.
Fish can see your shadow so go easy on the approach, especially if it's a sunny day.
Be patient! You'll reel one in eventually. Take your time and enjoy the experience of trout fishing in the Pocono Mountains.
If you're planning to introduce your kids to fishing this year, save the date for Mentored Youth Fishing Day on Saturday, March 25! The PFBC invites young anglers who have obtained a current year Mentored Youth Permit or a Voluntary Youth Fishing License, accompanied by a licensed adult angler, to fish with their mentors in stocked trout waters that are normally closed to trout fishing. Browse even more upcoming fishing events below, including Lake Genero's Fishing Derby & Cornhole Tournament and Bridge the Gap: Fishing for Beginners at Pocono Environmental Education Center.
---
Find yourself a place to stay to give yourself more time to try fishing spots all over the region. A day out on the water will make you hungry! While you may well be bringing home fish for dinner, there are also lots of delicious local restaurants perfect to refuel. Can't wait to get fishing? Watch the video below to get a glimpse of the excitement of opening day of trout season in the Poconos!