With four counties, 2,400 square miles, historic buildings and countless attractions, the Pocono Mountains is a pretty cool place to play Pokémon GO.
Our downtowns are swarmed with catchable creatures. Parks are doubling as gyms and landmarks as Pokéstops. It seems like everywhere you turn, there's something to grab in the game. We say go for it, but look up from your phone once in a while. Our Pokéstops are awesome IRL.
This week, we took a road trip through the region in search of Pokémon and points of interest. Browse the photos below to see what we found, and explore our area for more places to play.
---
Jim Thorpe Visitors Center
We caught this Diglet tunneling outside the train station. Trust us, this is the place to start your search for Pokémon in Jim Thorpe. Our information specialists know the town inside and out. They'll help you find Pokéstops and places to see.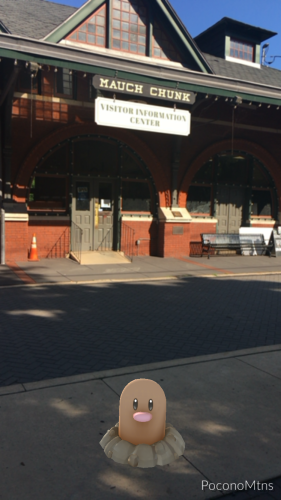 Inn at Jim Thorpe
We found a Spearow outside the Inn. This historic B&B is one of the top places to stay in town. The adjoining Broadway Grille & Pub is a casual, cool spot to refuel.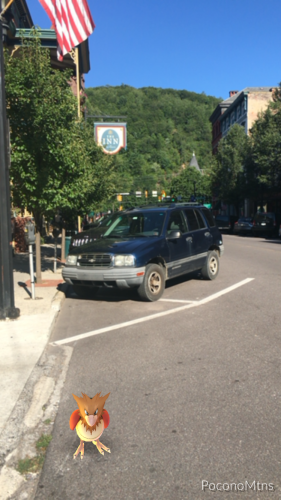 Lehigh River
This Vulpix was hanging out on a bank of the Lehigh River. With class II-III rapids and stunning mountain scenery, the Lehigh is well known for whitewater rafting.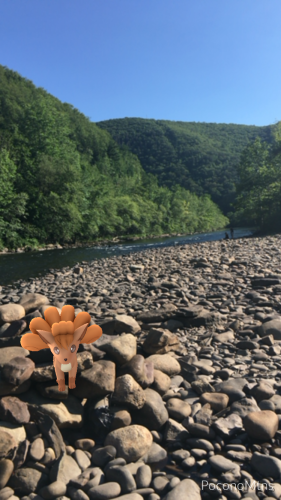 ---
MONROE COUNTY

Downtown Stroudsburg Visitors Center
You'll find plenty of Pidgeys in Pokémon GO, but it's worth grabbing this one outside our Stroudsburg Visitors Center. Downtown Stroudsburg is charming, walkable and loaded with hot spots and gyms. Stop in and see us. We'll help you map your route.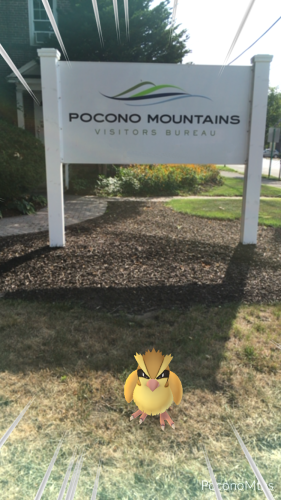 Big Pocono State Park
We discovered a Charmander, and panoramic views, at the top of Camelback Mountain. This catch requires some driving, but it's well worth the trip if you've got time. The park has hiking paths, picnic areas and photo-worthy vistas that span three states.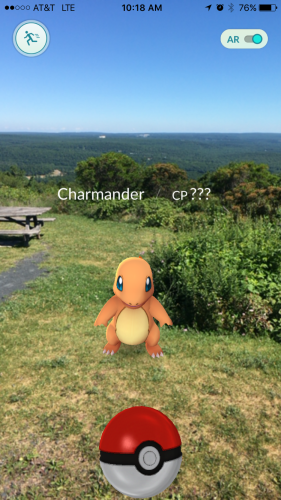 ---
PIKE COUNTY
Lake Wallenpaupack Visitors Center
We made a pit stop and a great catch at the Lake Wallenpaupack Visitors Center. This Eevee was waiting right outside the door. If you go, grab a brochure on Wally Lake Fest. The annual bash is coming up August 26-28, 2016.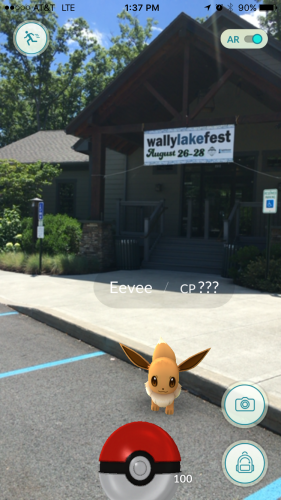 Hotel Fauchere
We snatched this Weedle outside the Hotel Fauchere in Milford. If you've never been there, we suggest you stop by. The historic inn boasts deluxe rooms and restaurants like the stylish Bar Louis.
Insider Tip: Order the sushi pizza. Thank us later.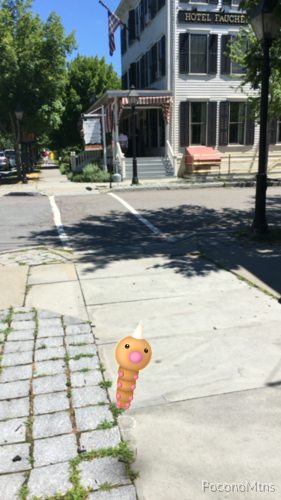 Downtown Milford
Stroll the streets of Milford and you'll find more than a few monsters. We found an Oddish taking in some local history and a Caterpie checking out the Veterans' Memorial. Keep an eye out for specials while roaming around town. Many small businesses offer incentives for Pokémon players.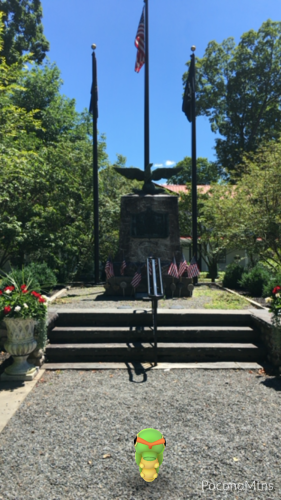 ---
WAYNE COUNTY
Hawley Silk Mill
If impressive architecture and great shopping aren't enough to make you stop, pull over for a Pokémon at the Hawley Silk Mill. We picked up a Zubat in front of the stone giant.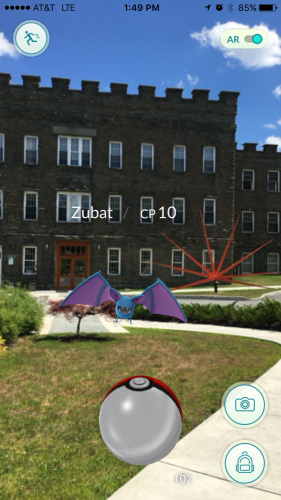 Cocoon Coffee House
Take a few steps outside the Silk Mill and you'll walk right into Cocoon Coffee House. This cozy café is a great place to grab a pick-me-up and a Pokémon. We found this Eevee resting under the shop sign.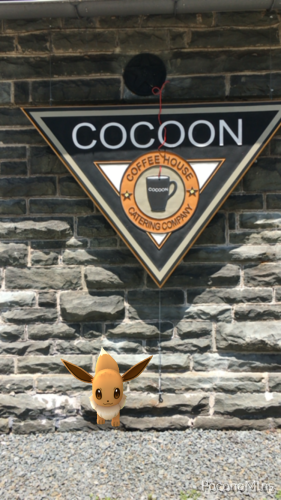 ---
If you plan to play Pokémon GO during your next visit to the Pocono Mountains, get to know our towns in advance. Be sure to stop by our Visitors Centers for information and some hints to help your game. Remember to be mindful of business hours and avoid private property while playing. Got questions? Contact us. We'd be happy to point you in the right direction.
---
Pokémania has hit the Pocono Mountains. Businesses across the four counties are creating specials, events and promos just for players. Check out this one from Pocono TreeVentures—A great way to rep your team and save money on zip lining!