Coronavirus (COVID-19)
Last Updated: 1/18/2021 at 1:12pm
The Pocono Mountains has been working collectively to monitor and mitigate the spread of COVID-19 over the last several months, much like everyone else.
Vaccines are safe and effective and the best way to protect  you and those around you from serious illnesses. Find vaccine information and resource pages on health-related issues due to COVID-19 and information on your regular care.

SIGN UP TO GET THE SHOT - NO INSURANCE REQUIRED AND IT IS FREE!
Your community will thank you.
Visit VaccineFinder.org to find out where to receive the COVID-19 vaccine in PA. For more information call (877) 724-3258 or (877) PA-HEALTH.
---
---
The Pocono Mountains Visitors Bureau, Pocono Mountains United Way and Chamber organizations in Wayne, Pike, Monroe and Carbon Counties established the Hospitality & Restaurant Worker Relief Fund to provide some level of aid to as many folks who are in need.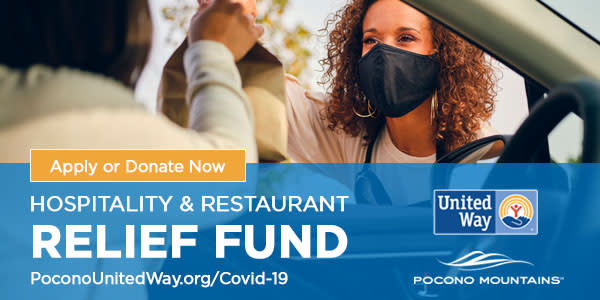 ---
Get The Vaccine & Booster Facts!
Millions of Americans are now eligible to get a COVID-19 booster dose. Booster doses are now recommended for some groups of people. The CDC recommends Pfizer boosters six months after their second dose for:

Older adults age 65+ and those living in long-term care facilities
Adults ages 50-64 at high risk of severe COVID-19, due to underlying medical conditions
Adults ages 18-49 at high risk of severe COVID-19 due to underlying medical conditions should consider a booster based on an assessment of their individual benefits and risks and consultation with their medical provider.
Adults age 18-64 for people whose jobs put them at high risk for COVID-19

All COVID-19 vaccines currently available in the United States are effective at preventing COVID-19 as seen in clinical trial settings. Research provides growing evidence that mRNA COVID-19 vaccines offer similar protection in real world conditions. COVID-19 vaccination is an important tool to help stop the COVID-19 pandemic and helps protect people from getting sick or severely ill with COVID-19 and might also help protect people around them. Some people who are fully vaccinated against COVID-19 will still get sick because no vaccine is 100% effective. Experts continue to monitor and evaluate how often this occurs, how severe their illness is, and how likely a vaccinated person is to spread COVID-19 to others.

Currently, three vaccines are authorized and recommended to prevent COVID-19:

Pfizer-BioNTech COVID-19 vaccine: Based on evidence from clinical trials, the Pfizer-BioNTech vaccine was 95% effective at preventing laboratory-confirmed COVID-19 illness in people without evidence of previous infection.
Moderna COVID-19 vaccine: Based on evidence from clinical trials, the Moderna vaccine was 94.1% effective at preventing laboratory-confirmed COVID-19 illness in people who received two doses who had no evidence of being previously infected.
Johnson & Johnson (Janssen) vaccine: On April 23, 2021, the Pennsylvania Department of Health notified all COVID-19 vaccine providers that the pause in administering doses of the Johnson & Johnson (Janssen) vaccine has been lifted. Trials reported overall effectiveness of 66% (72% in the US) in preventing moderate to severe COVID-19.

Does the COVID-19 vaccine require two doses?

Pifizer-BioTech and Moderna require you to have two doses of the same vaccine, given between 21 and 28 days apart. The full two doses need to be administered for the best chance of effectiveness. The second dose is the same dosage as the first, and it must be from the same manufacturer.
Johnson & Johnson (Janssen) require 1 shot to be given.

Can I stop masking and physical distancing if I get vaccinated?  If you are fully vaccinated you can resume activities without wearing a mask or physically distancing, except where required by federal, state, local, tribal, or territorial laws, rules, and regulations, including local business and workplace guidance. Outdoor visits and activities are safer than indoor activities, and fully vaccinated people can participate in some indoor events safely, without much risk.

Recommendation for use of the vaccines for the prevention of COVID-19 as follows:

Pfizer-BioNTech pediatric COVID-19 vaccine for children ages 5-11 years
Pfizer-BioNTech COVID-19 vaccine in persons aged ≥12 years
Moderna COVID-19 vaccine in persons aged ≥18 years
Johnson & Johnson (Janssen) COVID-19 vaccine in persons aged ≥18 years

The CDC recommends people who have already had COVID-19 still get vaccinated. That's because the vaccine could create a bigger immune response, which better prepares the body to fight off the coronavirus in the future. Plus, the threat of a severe COVID-19 infection outweighs any benefits of natural immunity.

Vaccines will help us fight COVID-19; however, it is still important to be S.M.A.R.T.!
Pennsylvanians should follow the Centers for Disease Control and Prevention (CDC) guidance for wearing a mask where required by law, rule, and regulations, including local business and workplace guidance and policies. In addition, all individuals should still follow guidance at workplaces, local businesses, long-term and residential care facilities, hospitals, prisons and homeless shelters.
This site is a resource of information about COVID-19 and updates throughout the Pocono Mountains region including local hospital information and event changes. View our blogs for travel inspiration and news.
Find the answers you need and latest information and resources on COVID-19.
Learn about novel coronavirus, preparedness and updated policies to protect the community…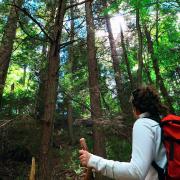 X
E-Newsletter
Stay updated on what's happening in the Pocono Mountains.
Sign Up