Check back May 20, 2021 when this blog will be updated! The Pocono Mountains is an easily accessible, scenic escape from the East Coast's urban corridor—and autumn is the perfect time to visit. More than 127 varieties of trees and shrubbery change to a varicolored palette of red, yellow, and orange spanning 2,400 square miles and peaking at three different times throughout fall.
While peeping at autumn leaves, unwind at one of the Pocono's historic lodges, which all boast pristine mountain settings, exceptional restored architecture, and welcoming hospitality. See for yourself why this region has been the go-to spot for a fall getaway for more than a century.
---
1. Cove Haven Resort
A holdover from the Poconos' past as the 'Honeymoon Capital of the World', Cove Haven Resort has been welcoming visitors since the 1940's. The heart-shaped tub was invented here—a design that's since been replicated at resorts around the world. Now, seven-foot tall champagne glass tubs draw guests along with the romantic all-inclusive, couples-only atmosphere. Located on Lake Wallenpaupack, the resort offers a wide variety of outdoor offerings, like hiking, boating, tennis, volleyball, driving range, and backyard-style games amid the fall colors. Enjoy relaxing at the spa and outdoor hot tub before spending the evening at the Champagne Palace Nightclub, which features entertainment each night including bands, DJs, and comedians.
2. Skytop Lodge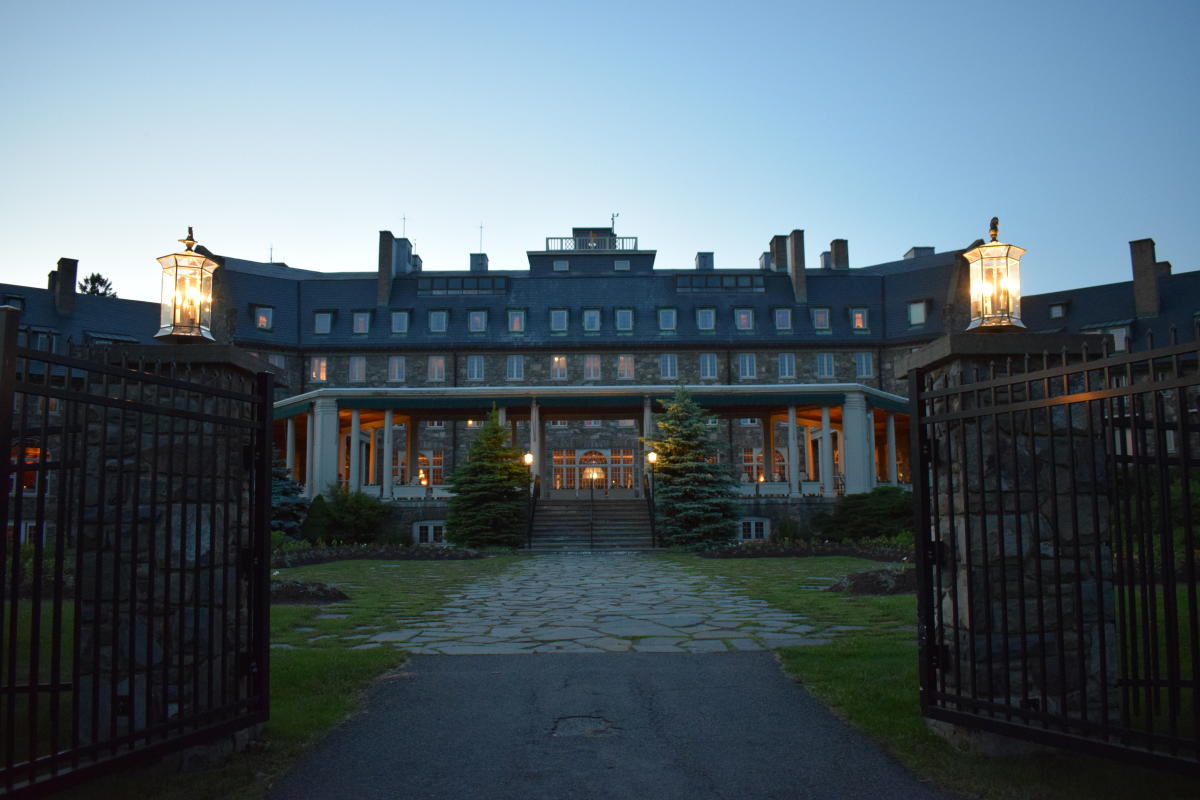 Find solitude and wide-open views at this 5,500-acre mountain escape that debuted in 1928. Built on a plateau of abandoned farmland north of Canadensis, Skytop Lodge supplies the Poconos' best panoramic vistas for fall leaf peeping. A golf course was later added and the lake enlarged via new dam construction in the 1950s, attracting visitors to this majestic resort in droves. Skytop responded by adding cozy cottages and private hiking trails. The property today retains its old-school charm and welcomes couples and families looking for an adventurous getaway. See vibrant leaf colors best on Skytop-owned trails that reach waterfalls and dramatic foliage outlooks. For an extra dose of autumn adventure, mark your calendar for October's Harvest Lake Stroll, which is open to the public and includes gourmet bites, cider, and wine served as you amble about the lake.
3. The Harry Packer Mansion Inn
The Victorian hamlet of Jim Thorpe is famous for more than bike paths and railways. This mansion-turned-inn on Packer Hill was first constructed in 1874 as a wedding gift from a wealthy father to his son, but it gained fame in the 1970s when its imposing Gothic façade caught the attention of Disney's Imagineers. Its striking design became the model of the exterior for Disney World's Haunted Mansion ride.
Today, The Harry Packer Mansion Inn invites guests for Friday Night Wine Tastings and Murder Mystery weekends, which are based loosely on historic events from the mansion's construction era. Expect opulent, Victorian-inspired accommodations in the mansion or restored carriage house paired with a filling, homemade breakfast. Spend evenings sipping on classic cocktails in the new lobby Libations Lounge. Book the first three weekends of October to experience the town's Jim Thorpe Fall Foliage Festival jam-packed with food, craft vendors, and hayrides.
4. The Shawnee Inn and Golf Resort
Tucked along the wild Delaware River in the shadow of Delaware Water Gap, The Shawnee Inn and Golf Resort has played host to vacationers since the early 20th Century. Shawnee's legendary 18-hole golf course opened in 1911 as one of America's first golf resorts and has hosted pros like Arnold Palmer and Sam Snead. Experience blazing trees in shades of red and orange along the Delaware River on Shawnee River Trips that ends back at the resort. Or take a guided hike on forested trails that lead to a waterfall. After the hike, sip craft beers at Shawnee Craft Brewery—located riverside on the inn's property. Shawnee Craft specializes in old-fashioned brews (like your granddad might've drank) paired with fresh-baked pizzas.
5. Woodloch Resort
Launched as a 40-person boarding house in 1958, family-owned Woodloch Resort has grown over the years to a 165-room, all-inclusive haven on shimmering Lake Teedyuskung. The third generation of the Kiesendahls now run the retreat, and families return year after year for its traditional charm and lakeside adventures that feel like a departure from busy, modern getaways. Go-karting, rock climbing, archery, water skiing, and swimming in the lake or pools are just a few of the 30-plus activities offered daily and included in every stay. See fall foliage best from Woodloch's private Lake Teedyuskung's shore, or on a walk, jog, or bike ride around the Nature Trail.
6. French Manor Inn and Spa
Built as a wealthy mining magnate mountaintop retreat, the French Manor Inn and Spa began as a 1930s summer chateau and was later transformed into a home for art restoration before becoming a bed and breakfast in the 1980s. The home has stood over time thanks to careful craftsmanship from fine materials, including leaded glass windows, imported Spanish slate roof, and a cypress and cedar interior. Modern upgrades—a revamped kitchen, restored carriage house, and luxurious spa and pool, just to name a few—have added to its appeal. Come autumn, guests stay to cozy up around stone fireplaces, soak in the Jacuzzi, and take in crisp mountain air on private balconies facing the beautiful Pocono Mountains. Dining on the covered terrace offers expansive 20-mile vistas of the colorful, changing leaves.
---
No matter which historic resort you visit, the Pocono Mountains is an ideal way to escape the city and enjoy the beauty of the fall. Take advantage of the scenic setting for a memorable getaway in a one-of-kind resort.
Written by Jenny Willden for RootsRated Media.