Check back September 2, 2021 when this blog will be updated! In the Pocono Mountains, signs of autumn are all around. The leaves are changing, the sun's setting earlier, and comfort foods are reappearing on restaurant menus across the region.
At farm-to-table dining destinations like the Settlers Inn at Bingham Park, fall flavors shine through locally sourced ingredients. We stopped by the Settlers Inn for a sneak peek at some fall menu items.
Executive Chef Ben Sutter took us through the plating of a Pistachio Cream Pork Chop with "Brava" Potatoes, and a vegetarian Beet Tartar with Fennel Chili Vinaigrette. View the video of our visit for step-by-step instructions, and read on for full recipes.
 
---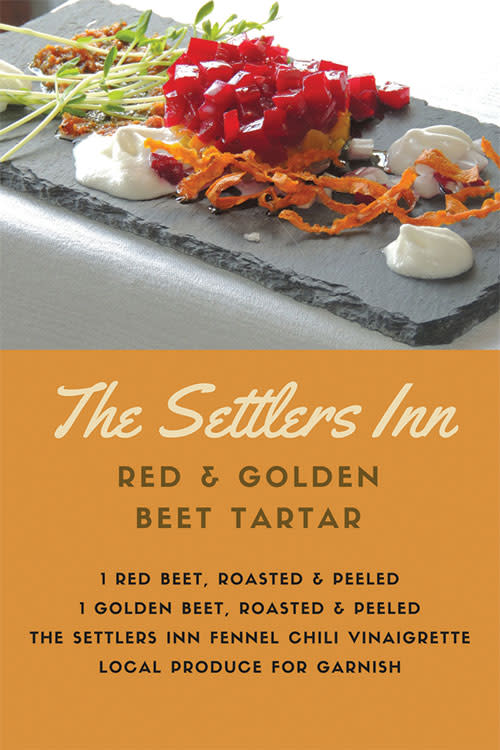 The Settlers Inn Beet Tartar
A vegetarian take on the classic Beef Tartar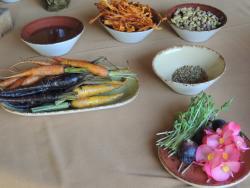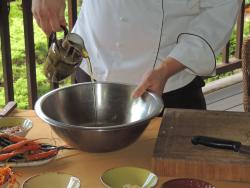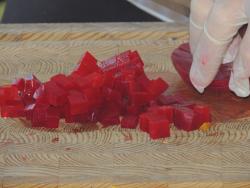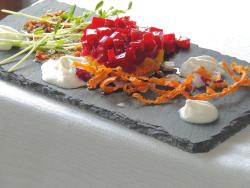 INSTRUCTIONS
1. Prepare Fennel Chili Vinaigrette, set aside
In a large bowl, combine:
3 cups blended oil
1 cup rice wine vinegar
2 cups sweet chili sauce
6 garlic cloves, chopped
2 tbsp. Sriracha
2 tbsp. toasted ground fennel seed
2 tbsp. salt and pepper
Mix well
(Makes many servings)

2. Finely dice golden beet, set aside in bowl

3. Finely dice red beet, set aside in bowl
Keep them separate to create a layered effect when plating!

4. Spoon a small amount of vinaigrette into each bowl of beets and stir

5. Using a ring mold, spoon golden beet mixture onto plate and repeat using red beets; tap beets down into mold to set
No ring mold? Take a cue from Kelly and use a cookie cutter!

6. Garnish using local produce
Chef Ben used tomato tapenade, raw onion, sweet potato crisps, pea shoots and green apple foam
7. Enjoy!
---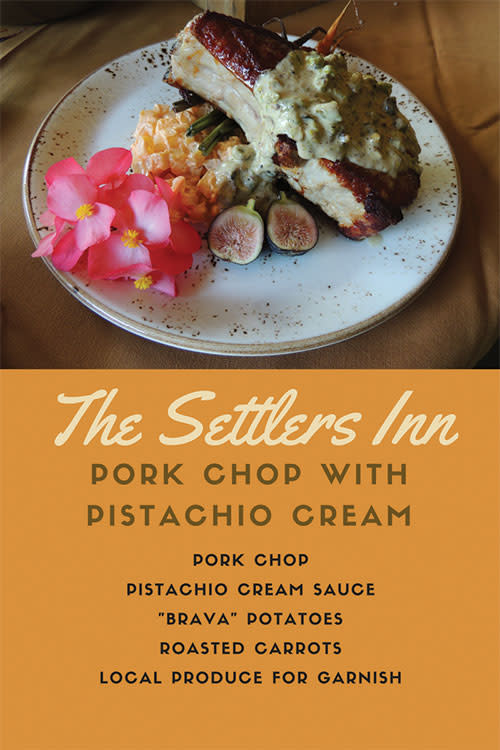 The Settlers Inn Pork Chop with Pistachio Cream Sauce
A comforting fall dish made with local ingredients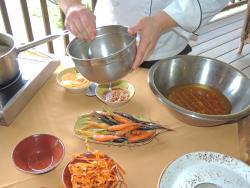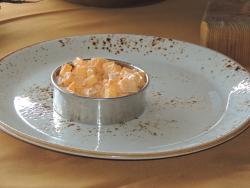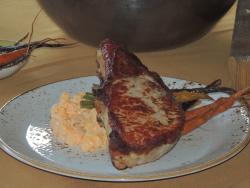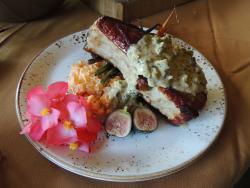 INSTRUCTIONS
1. Cook pork chop as desired
2. Roast carrots and potatoes
3. Prepare pistachio cream sauce
In a sauce pot, combine:
2 cups heavy cream
1 cup shelled pistachios
simmer until slightly reduced
puree and set aside
4. Prepare "Brava" Potatoes
Toss roasted, diced potatoes in Sriracha aioli
5. Plate Brava Potatoes using a ring mold
6. Place roasted carrots over potatoes, top with pork chop and drizzle with pistachio cream sauce
7. Garnish using local produce
Chef Ben used figs, which grow into the autumn season, and edible begonia flowers from the garden at the Settlers Inn.
8. Enjoy!
---
These and other fabulous fall dishes will be served at the Settlers Inn starting Saturday, October 8. For more on menus and upcoming events, visit thesettlersinn.com.
---
Stay tuned to our blog for more fall recipes from the Pocono Mountains. Want more videos? Connect with @PoconoTourism on Facebook, Snapchat, Instagram and YouTube! Upcoming posts include autumn hikes, how-tos, interviews and more fun from the Pocono Mountains.
For autumn trip planning tools, visit our Fall in the Pocono Mountains page. Be sure to check the Fall Foliage Forecast while you're there. Leaves are already beginning to blaze!