Check back July 15, 2021 when this blog will be updated! Just two hours from New York City, the Pocono Mountains region is the perfect place to escape the urban grind. The area offers a blend of cultural and historical highlights nestled among majestic mountains.
Charming towns like Jim Thorpe, Stroudsburg, and Hawley harbor treasures like boutiques, antique stores, art galleries, and museums, along with farm-to-table restaurants, craft breweries, and wineries. If you love the outdoors, you can explore more than 261 miles of trails, nine state parks, and two national parks.
There are plenty of reasons to escape to the Poconos, and here are several ways to pull off the perfect trip.
Take an Epic Road Trip
From New York City, you'll drive less than 100 miles to reach the Pocono Mountains region, so it's an excellent destination for a day trip or an extended vacation. Getting to the Poconos from New York City is a breeze too. You can follow several major highways, including I-80, I-84, I-380, and I-476, but, I-80 offers the most direct route.
As you head west from the city and travel toward the Poconos, there are plenty of places to stretch your legs or grab a bite, including inviting towns like Delaware Water Gap and Stroudsburg. Once you reach the Pocono Mountains, you can cruise along several scenic byways, including Route 402, Route 507, and Route 6, which is considered one of the most picturesque roads in the country.
Pick the Perfect Base Camp
Whether you want to browse boutiques, visit wineries, hike through the mountains, or just relax, there's a perfect spot for you in the Poconos. The region's historic towns are known for their charming streets, farm-to-table restaurants, delightful wineries, and inviting craft breweries. Plus, you can choose from an array of accommodations, including quaint bed and breakfasts, stylish boutique hotels, and tranquil spas.
Of course, in the Pocono Mountains, there's plenty outside town too. Maybe you want to cozy up under starry skies at an idyllic campground or drift off to sleep in a woodsy cottage as you're serenaded by chirping crickets. The region is also peppered with spots ideal for a self-imposed digital detox. Unplug and get your fresh-air fix at one of the area's country inns, which are perfect for nights when you want to unwind with a board game and a bottle of wine.
Bring the Whole Family
The Pocono Mountains region has a history as one of the country's most iconic honeymooning destinations, but the area has also become a popular place for family vacations. The region's waterpark resorts make for an unforgettable family getaway. Everyone will have a blast playing in the sprawling indoor swimming pools, zooming down water slides, and splashing through other water attractions and rides. Beyond the water, the fun continues with indoor laser tag and rock climbing. Plus, kids and adults will get a thrill from ascending into the forest canopy for an aerial ropes course.
When you head to Poconos, don't forget about your four-legged family members. The area includes over 125 different trails and 150 lakes, so there are plenty of places where you and your pooch can enjoy the outdoors together. Plus, you'll find plenty of pet-friendly accommodations, from trailside campgrounds to cottages to cushy country inns.
Take a Guided Tour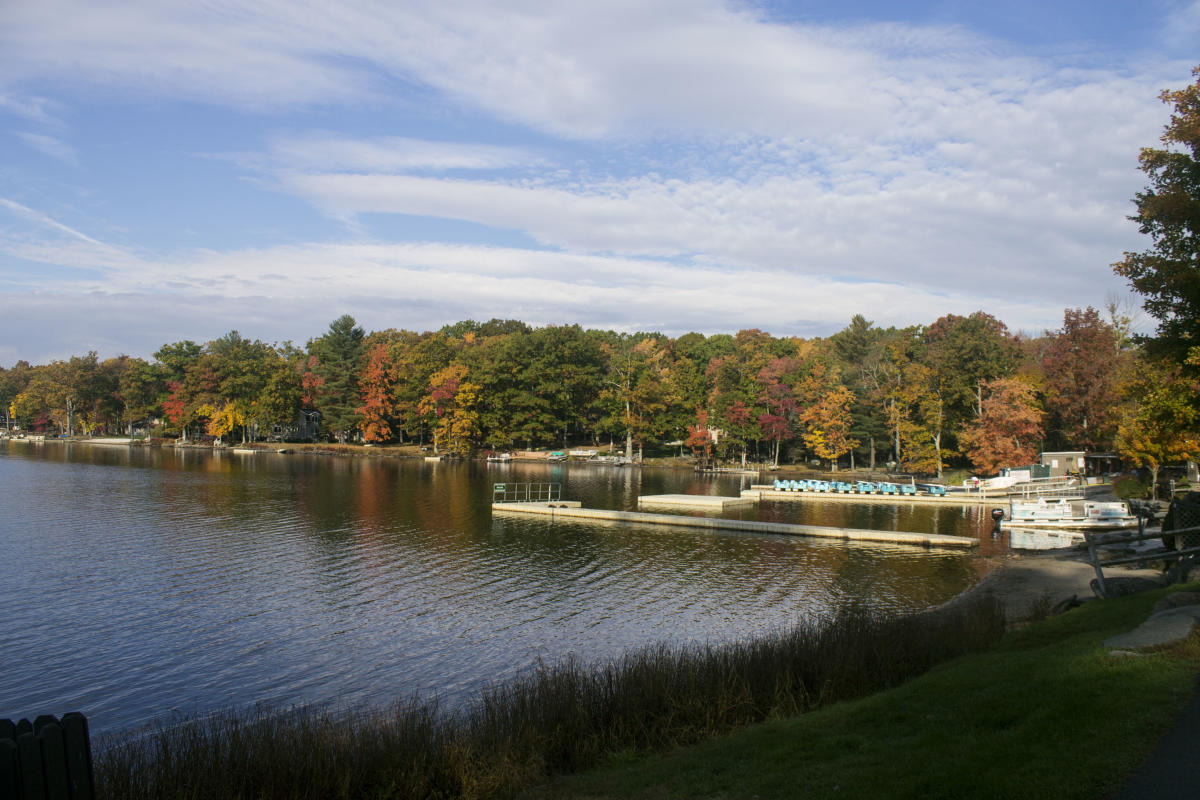 Even if you're visiting the Poconos for just one weekend, you can still cover lots of grounds and explore much of the area's history and natural beauty. For a unique and entertaining tour of charming towns and rolling mountains, hop aboard a historic railway line. On The Stourbridge Line, you can ride in a vintage railroad car and enjoy an afternoon outing or a full-day excursion. Along the way, impressive bridges will carry you across rivers, while the rugged scenery slides by. Throughout the year, the railways offer seasonally-themed journeys, from leaf-peeping tours in the fall to winter wonderland excursions.
You can also take a tour on a classic motorcycle—even if you've never been on a bike before. Jim Thorpe Sidecar Tourz offers a range of guided regional outings where you'll cruise through the Poconos in the sidecar of a vintage BMW motorcycle. To enjoy ariel views, take to the skies with Moyer Aviation. The group leads sightseeing flights that showcase regional highlights like Lake Wallenpaupack and the Delaware Water Gap. If you'd prefer, you can arrange custom sightseeing trips to see specific areas of interest.
Relax and Ride in Style
Traveling from New York City to the Pocono Mountains couldn't be easier. You don't even need a car. Relax and let someone else deal with the driving aboard one of the convenient transportation services connecting New York City with the Pocono Mountains region. Martz Trailways offers direct bus service to the Poconos and serves three locations spread throughout the area, including the Delaware Water Gap Station, the Mount Pocono Station, and the Stroudsburg Park N' Ride Station. People in New York City can also take the Pocono Day Tripper, which offers ground transportation to the mountains as well as wine tasting excursions and area pub tours.
Written by Malee Baker Oot for Matcha.